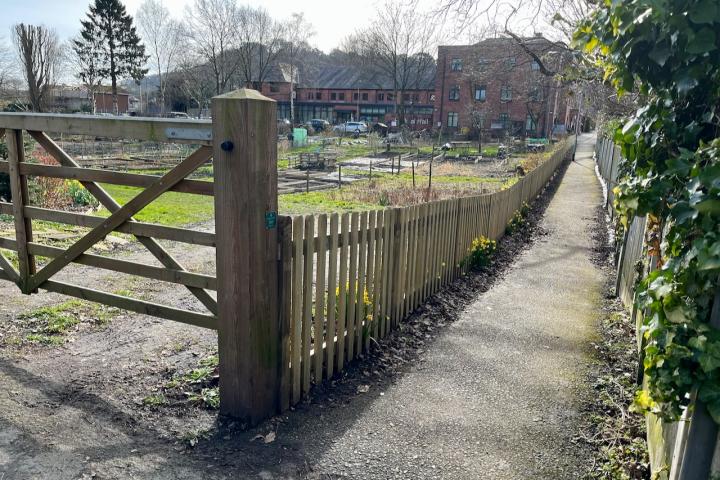 For those of you that walk down the footpath from Heyes Lane to the Festival Hall you may or may not have noticed that the fence between the allotments and path has been replaced.
But who knew that path is know as Joshua's stile?
So who is Joshua?
Michael Scaife, a member of the Alderley Edge History Group, explains:
A member of an old Alderley Edge family remembers an aunt of hers telling her, that many years ago, there was a barrier at the Heyes Lane end of the path to prevent cyclists and horse-riders from using it.
An old gentleman who made a daily trip to the village always rested on the barrier. His name was Joshua, hence Joshua's stile to the locals. This sounded plausible but I always though it was a bit too plausible. The true explanation, I think, is this:
Plot 2869 on the tithe map, a meadow called Moss Piece, was occupied by Joshua Ridgway. This plot corresponds to the allotments (all but a narrow strip along Heyes Lane) and the Festival Hall. Joshua also occupied 5 other pieces of land covering the Scout Hall, the end of Devonshire Drive and the end of Moss Lane (north side).
He had a house approximately where 26 Devonshire Drive now stands, with a track leading to it from Moss Lane where the present footpath leads from Moss Lane to Devonshire Drive. He is described in the 1841 census as a silk weaver, in 1851 a farmer of 1 acre and hand loom silk weaver, in 1861 as a silk weaver and in 1871 as a farmer 1 acre. He died in 1871 aged 82.
The tithe map does not show any path, and the 1871 6 inch OS map is not clear. But the 1896 6-inch map shows a path from Heyes Lane to Moss Lane, and by 1907 Stamford Road and Talbot Road had been laid and the path is shown as it is today.
Joshua was baptised at St Mary's Alderley on 27 March 1791 and married Nancy Burgess at St Mary's Stockport in 1820. The owner (freeholder) of 5 of the plots of land he leased was John Burgess. Whether he and Nancy were of the same family I can't say - there were too many Burgesses in the area.
With that in mind, Alderley Edge Parish Council are looking into getting some signage to mark Joshua's stile.