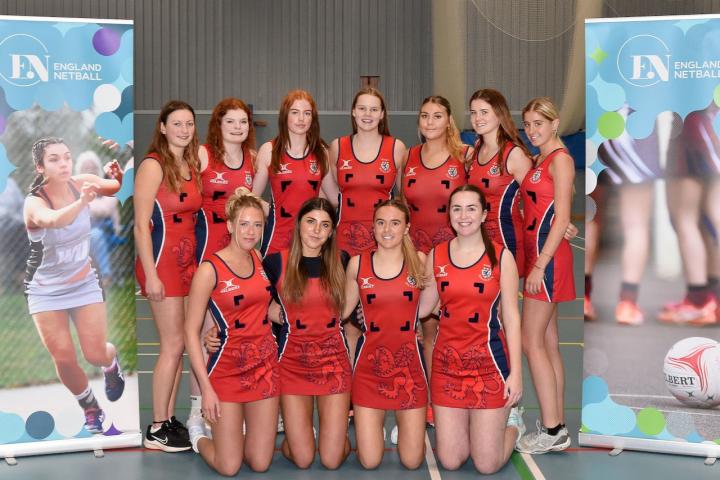 Promotional Feature
The King's School's netballers lifted the Cheshire U18 netball trophy after prevailing against two derby rivals.
King's close-knit sisterhood had a few tough moments in the round robin qualifiers with wins against Sandbach and Upton and a draw against Alderley Edge. However, they saved their best fluid, clinical game for the semi-final against closest rivals Fallibroome and the final against Wilmslow.
Captain Anna Warham, a no-nonsense Goal Defence with slick hands and superb passing skills, said: "Fallibroome has always been our keenest rival and we weren't about to end our school netball careers with a semi-final defeat."
Sisters Cordy and Minty Kight showed a near telepathic understanding to repeatedly set up Goal Shooter Eve Carter and Goal Attack Madi Baxter with the match winning chances. Cool under pressure and well-practiced in the art of finishing when it matters the most, Eve and Madi came up with the goods to win 14 - 8.
Wilmslow High School were next in the firing line in an end-to-end encounter that King's won 11 - 5, again with all elements of the team knitting together perfectly to cruise to the victory. Anna Warham added: "We have some very good individual players but our secret is our team ethic. No one let us down, every one did their job and we lifted the trophy as a team."
The Cheshire Cup final marked the end of the season and the end of the school careers of four of the girls in Year 13. Anna, Goal Keeper Hope Sutton, Eve Carter and Cordy Kight will move on next year after playing in the same close knit King's team for 11 years. Hope, 18, said: "We had some very happy moments but we've also shed a few tears and we have forged bonds that we will always share."
Cordy added: "It's been a long journey. We've won together and lost together and we will always be friends." Eve Carter added: "It's been wonderful and we all want to continue to play netball and come back and see the how the next generation performs."
King's Netball Coach Phil Owen said: "The girls were cool, calm and assured throughout the tournament and have been both great ambassadors for the school and role models for the younger ones coming up through the years."
Pictured on the back row from left to right are: Leah Shadwell, Lydia Hine, Phoebe Thomson, Madi Baxter, Hope Sutton, Anna Warham and Cordy Kight. On the front row are: Gabby McIntyre, Minty Kight, Aimee Venables and Eve Carter.
Tags: