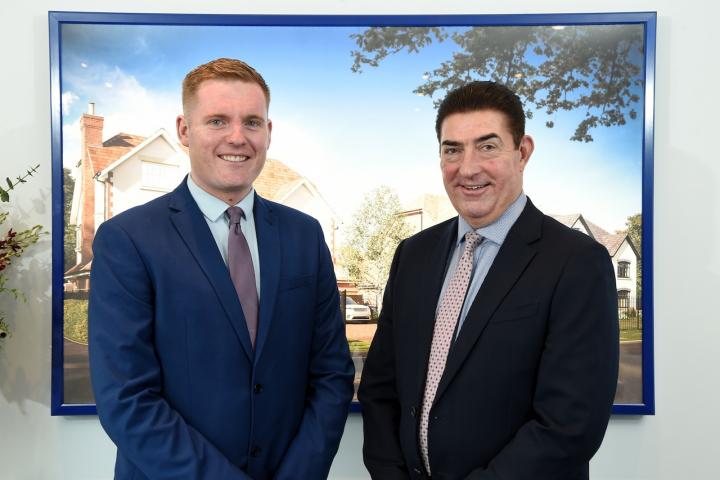 Promotional Feature
The housing market for people moving from their first home to their second is stronger than ever, according to Jones Homes North West's Cheshire-based mortgage expert.
Jake Champion, New Build Sales Manager at New Home Mortgages, says that more people have been able to move up the housing ladder because of a combination of rising property prices and lockdown savings.
And he reports that the desire for greater energy efficiency and working-from-home space is driving particular demand for new-build properties.
Jake, who acts as a joint mortgage specialist and estate agent on behalf of Alderley Edge-based housebuilder Jones Homes North West, said: "Many people are still moving in the current market. We have especially noticed that this is a good time for second steppers who are going from their first home to their second.
"We believe this is because their houses are now worth more, and their deposits are also larger because they had more time to save during the pandemic. Because of this, the market is actually the strongest it has ever been for second steppers."
Jones Homes North West is currently seeing strong demand for its homes across Cheshire and Greater Manchester. According to Jake, the recent rises in energy prices have encouraged more second-steppers to opt for a new-build house rather than a period property.
He said: "New builds are built with energy efficiency in mind - a lot of them have a green EPC rating, which means they are in either category A or B.
"Having a more energy efficient home means your house is also more cost efficient, helping you to save up to hundreds every month on your energy bills.
"Something else which is important to buyers is the fact that Jones Homes' new builds are backed by the National House Building Council's 10-year warranty. This gives people peace of mind that their home - and money - will be protected for the next 10 years."
Since the pandemic, increasing numbers of people are working from home, meaning a greater demand for properties which offer the space to separate work and family time.
Jake said: "Because of this race for space as a result of the increase in those now working from home, there has been a large number of people migrating from large cities to smaller towns and villages allowing for larger houses and more space.
"More people are wanting gardens now too, which has increased the demand for new-builds with private outdoor spaces."
According to Jake, increasing numbers of second steppers are using Agency Assist to help sell their current home. This is a Jones Home scheme under which the housebuilder will work with a local estate agent to market the customer's existing property on their behalf, saving the buyer up to £3,000 in estate agent fees in the process.
He said: "Many people don't have the time to put their old house on the market and wait for it to sell whilst also looking for their next perfect home. Agency Assist has been that middleman and has made the process of moving house much smoother."
Simon Whalley, Sales Director at Jones Homes North West, said: "We are experiencing continued high demand for our properties across the region, with the second stepper-market proving particularly strong at the moment.
"Our spacious homes offer open-plan living areas, large bedrooms and in some cases a separate study or office – all the things that buyers seeking more space are looking for.
"Agency Assist has been used in a high percentage of our sales this year. This is partly a result of the strength of the second-stepper market but also because buyers are becoming increasingly aware of the benefits of using the scheme. As well as dealing with the estate agent on their behalf, we also hold their chosen plot for a minimum of eight weeks, giving them extra time in which to secure a sale."
For more information about Jones Homes North Wests developments and the Agency Assist scheme, visit jones-homes.co.uk.
Photo: Sales Director of Jones Homes North West, Simon Whalley, stood with Jake Champion from New Homes Mortgages