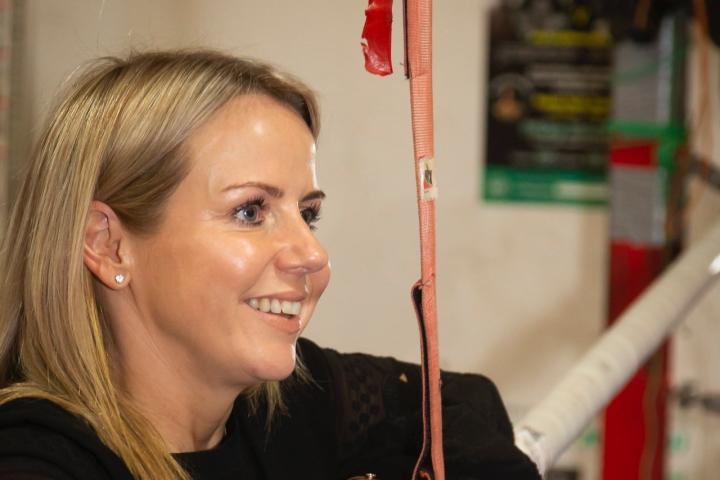 A mum from Alderley Edge has been awarded an MBE in the New Years Honours list for her services to boxing.

Charlotte Gilley founded the Maverick Stars Boxing Trust in 2018, which is focussed on supporting the community through the power of boxing.

The charity helps clubs and individuals, in some of the country's most disadvantaged areas. develop within amateur and professional boxing, giving people the chance to shine through sport.

Charlotte, a former pupil at St Hilary's School, was inspired to support boxers and boxing clubs after taking up a friend's suggestion to train at a local boxing club in a bid to overcome anxiety and depression.

Charlotte loved it from the first day she entered Timperley Amateur Boxing Club and went on to box competitively for the club. Whilst training, Charlotte noticed that Boxing clubs do a fantastic job in sometimes challenging environments, and many operate without support or knowledge of how to access funding streams and other vital resources.

Charlotte has helped set up a number of projects including Sting Like a Bee (SLAB) - that tackles serious youth violence and anti social behaviour on and off the streets and Holiday Hunger and Fit and Fed projects that support young people in school holidays who might not otherwise get a proper meal. This initiative provides subsidised boxing lessons and nourishing lunches.

Additionally the Trust runs club development projects that focus on improving club facilities, and community enhancement projects that focus on the wider community using the boxing club facilities to help with a wide range of issues within a community such as fitness classes for people with Parkinson's disease and self defence lessons for vulnerable young women that work within the sex trade.
Charlotte told alderleyedge.com "Naturally, I'm delighted to receive the MBE. It all came as a real surprise but it is very humbling to be honoured in such a way.
"Founding Maverick Stars has helped me as much as the charity as has helped others. It is my true calling and I've met some fantastic people who have become great friends. The work our ambassadors do, along with that of all the boxing clubs, has been vital in our success. Long may it continue!"