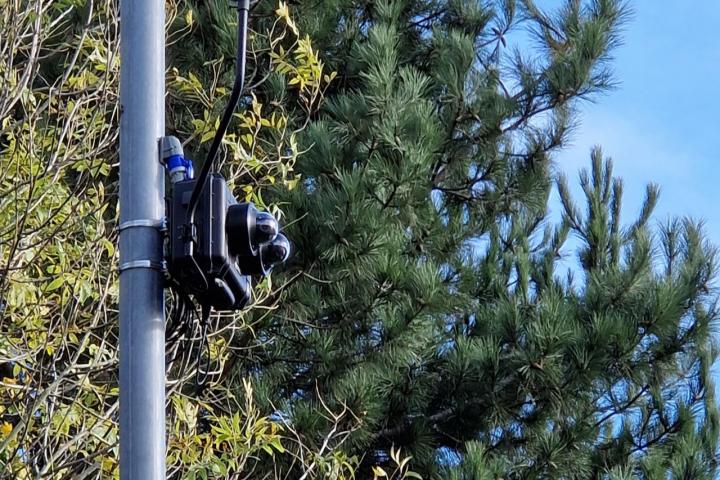 Results revealed for first week of noise camera trial on A34The noise-activated cameras, which have been purchased and installed as a joint venture between the Police & Crime Commissioner and Cheshire East Highways to to crack down on noisy anti-social motorists, was installed on Friday 21st October.
Placed on a roundabout approach on the A34 Pendleton Way, between Wilmslow and Alderley Edge, they are monitored, virtually, by Cheshire Police and during the first week of operation there were 38 activations.
Councillor Craig Browne explained "An activation occurs where a passing vehicle emits engine or exhaust noise in excess of 90dB. (The external noise emitted by passenger cars has been controlled since 1929 when the Motor Cars (Excessive Noise) regulations were introduced. New cars are now required to meet Europe-wide noise limits. These have been progressively reduced from 82 decibels (dB (A)) in 1978 to the current limit of 72 dB (A) established in 2016.)"
Initially, offending motorists will receive a letter, warning them that their driving behaviour has triggered an activation. As resources permit, police officers will be operating kerbside patrols to enable them to pull over and inspect any vehicles that are found to be triggering an activation.
The initial trial is expected to last for three months, after which and depending upon the results, Cheshire East Council working in partnership with Cheshire Police will give consideration to introducing a Public Space Protection Order (PSPO). Following the making of a Public Space Protection Order, any activations of the acoustic cameras would result in fines being issued to the respective drivers.
Councillor Craig Browne said "The trial is necessary to establish whether introducing a PSPO would be effective and offer value for money."
He added "I have long been of the opinion that there is not a single solution to the problem of anti-social and dangerous driving of these high-performance vehicles; however, the installation of acoustic cameras, coupled with the introduction of a 20mph zone (self-enforced with physical traffic calming infrastructure) in the centre of Alderley Edge, plus the implementation of Public Space Protection Order, will collectively help to address what has become a growing problem in recent years.
"I want to be clear that Alderley Edge welcomes nice cars and careful drivers; however, what we do not welcome is the type of aggressive, dangerous, noisy and antisocial driving that a minority of road users are displaying and which is spoiling the environment and enjoyment of Alderley Edge for the vast majority of residents and visitors."
He continued "I would like to place on record my thanks to Police & Crime Commissioner, John Dwyer, as well as officers from Cheshire East Highways and Cheshire Police for bringing this project to fruition."
John Dwyer, Police & Crime Commissioner for Cheshire said "Making Cheshire's roads safer is a priority in my Police and Crime Plan, so I'm pleased to have been able to fund an acoustic camera along the A34 to try and tackle inconsiderate driving that is having an impact on local residents.
"I know how frustrating these issues are, and it's because of the strength of feeling at my public meeting last year that together with the Constabulary and council we've kept this issue firmly on our agenda.
"The data we get from this trial will inform how we tackle this issue going forward. I am eager to see the difference this camera trial could make both now and in the future."