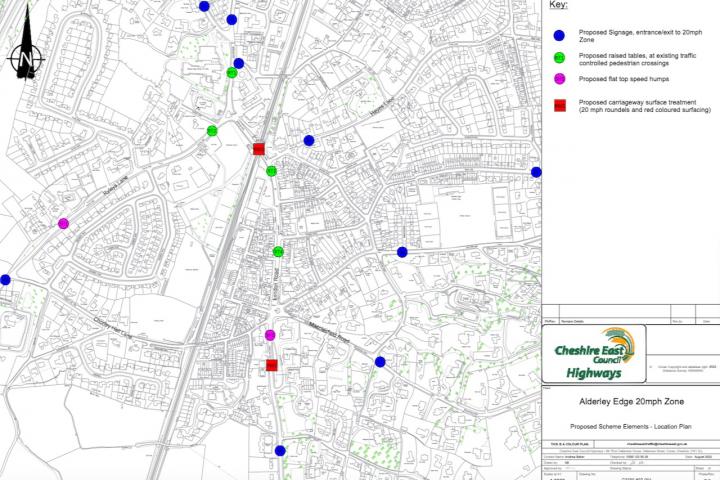 The final designs for the 20mph zone which is being introduced in Alderley Edge village centre have been published.
The scheme includes the installation of six speed tables at the following locations: the pelican crossing outside Alderley Edge School for Girls, the pelican crossing near "Running Bear" on London Road, the pelican crossing between Stevens Street and Brown Street on London Road, adjacent to the de Trafford Arms on Congleton Road, the pelican crossing near Alderley Edge Community Primary School on Ryleys Lane and near the entrance to The Ryleys School.
In addition, red textured road surfacing will be added with 20mph roundels painted on the road surface at the railway bridge on Wilmslow Road/London Road, as well as on Congleton Road on the approach to the junction with Beechfield Road.
Cheshire East Highways will shortly be applying to Cheshire East Council for a road closure permit, which must be advertised for 12 weeks prior to the scheme's implementation.
Councillor Craig Browne said "The scheme itself is estimated to take four weeks to implement, with the installation estimated for early February 2023. The scheme is being funded through s.106 contributions raised on historic developments in Alderley Edge, rather than through Council Tax.
"As a reminder, s.106 funds may only be spent on new or upgraded infrastructure and cannot be used to fund routine maintenance."
Key:
Blue - Proposed Signage, entrance/exit to 20mph Zone

Green - Proposed raised tables, at existing traffic controlled pedestrian crossings

Purple - Proposed flat top speed humps

Red - Proposed carriageway surface treatment (20 mph roundels and red coloured surfacing)
Tags: