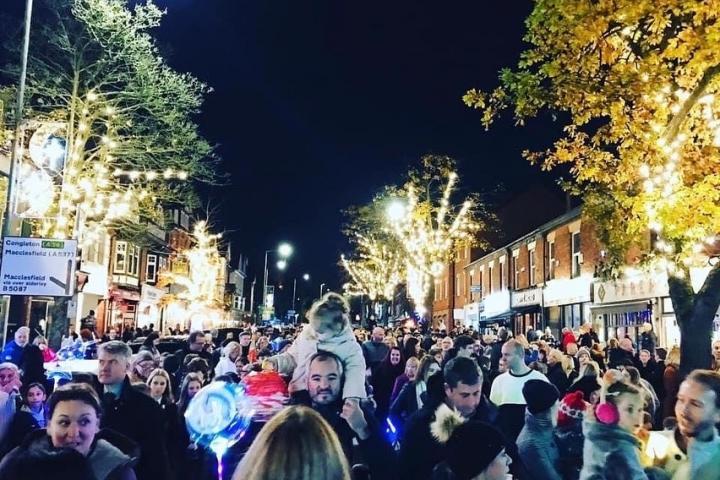 The date is set for the annual switching on of the lights, marking the official start of Christmas in Alderley Edge.
The Alderley Edge light switch on will be taking place on Saturday November 19th between 4pm and 8pm with stalls and festive entertainment on London Road including the return of our stage area - where many local musicians and acts will be performing, along with local school choirs and brass bands.
London Road will be filled with a selection of 60 artisan stalls offering local food, freshly baked produce, street food fresh roasted coffee, artisan gin, handcrafted jewellery, arts and crafts, hand poured candles, cheese truckles, mulled wine, local photography, dog treats and more.
Lisa Cowley of Independent Street said '' We are so excited to be once again working with The Alderley Edge Parish Council to bring the light switch on to my home village.. An event like this is a great way to showcase local talent whilst also being a fantastic family outing discovering the unique selection of foods and crafts on offer. Experience the festive entertainment and buy that unique Christmas gift whilst supporting our retailers on our own high street. Our event will be packed full of entertainment, live music and fun for the whole family.... See you there! ''
Councillor Craig Browne added "The Parish Council has invested heavily in improving the village Christmas lights display over the last few years, beginning with the lamp column displays in 2019 and a complete overhaul of the tree lights last year. This year, we have also installed new lighting on the triangle at the junction of Ryleys Lane and Wilmslow Road.
"The Christmas Lights Switch On is a key event in the village's civic calendar and we are sure everyone will be looking forward to this year's event, where we will again have a Christmas Market between 4pm and 8pm. We have taken on board feedback following last year's event and whilst for safety reasons we will not be organising a lantern parade this time, we would still encourage children and their families to bring lanterns which can be lit to coincide with the formal switch-on at 7pm."
He added "This promises to be a fantastic community event and we are delighted that the choirs and orchestras from both Alderley Edge Community Primary School and Alderley Edge School for Girls will be performing live on stage between 5.00pm and 6.30pm."
A road closure will be in place on London Road between 2pm and 9pm.