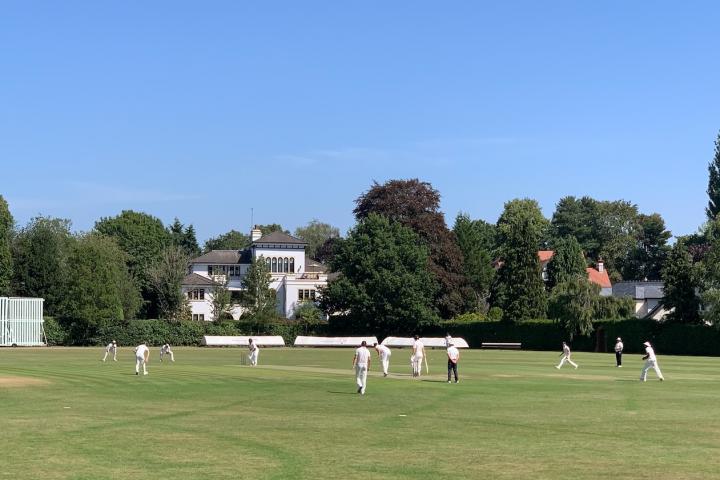 Two dramatic finishes for Alderley First XI this weekend saw victory denied on the final ball of their league match at Bowdon and exit of the Cheshire Cup at the hands of Widnes.
In their Cheshire County Premier League encounter at Sand Downs Road on Saturday Bowdon elected to bowl first after winning the toss on a blisteringly hot day across the county.
Alderley took advantage of a flat pitch and fast outfield with a spate of boundaries taking them to 31 before Sam Perry was caught at deep square leg and Ed Foster followed 6 runs later after mis-timing a full toss from spinner Isaac Brooks who picked up 3-52 for the hosts.
Young pair Archie Vaughan and Will Valentine then put on a stand of 103 for the 3rd wicket with Vaughan's 78 the stand out knock of the innings showing plenty of patience and invention in the face of a trio of spinners for the home side, Valentine notching 31 from his 58-ball stand. With the score on 149-4 Alderley's middle order struggled to get things back up and running as Brooks and Shardul Viinoday began to turn the screw on the visitors' batsmen, Viinoday completing a 5-wicket haul as Alderley slipped to 189 all out with Charlie Reid falling in the 53rd over for 19 looking to finish the innings with a flourish.
With Alderley dismissed two overs short of their allocation, Bowdon had 57 overs to chase their target in the second innings but proceeded slowly in a cat and mouse period of the game where they slowly proceeded to a 56-run opening stand in 25 overs before Sid Mahadevan was dismissed for 38, the first of 5 wickets for skipper Charlie Reid.
Spinner Will Valentine bowled tightly to help restrict Bowdon further picking up opener Jack Tipton for 27 and when Joe Chapple departed three balls later Bowdon had slipped to 72-3. Rob Lord and James Teasdale added 47 runs for the 4th wicket as the hosts looked to try and accelerate their chase but when Teasdale was dismissed by Richard Wilkinson in the midst of an economical spell from the Alderley seamer, chances for the hosts to mount a serious challenge looked to be fading with just 10 overs of the match remaining. Reid quickly collected Matthew Tully and James Bottomley, both bowled, to complete 5-61 from his 17 overs and drop Bowdon to 160-7 as Alderley sensed a chance to seize the win.
The drama intensified after Wilkinson trapped number 8 Vinnoday lbw and number 10 Brooks was run out with three balls remaining thanks to a smart piece of fielding from Tom Foreman in the deep. From the final ball of the match Wilkinson struck Bowdon's Number 9 Finlay Grosfils on the pads prompting a huge appeal from the Alderley fielders but the umpires finger remained firmly in pocket to see the hosts scrape to a losing draw and take 7 points to Alderley's 11.
On Sunday Alderley faced Widnes in the Quarter Final of the Cheshire Cup at Moss Lane where the visitors won the toss and elected to bat first on another warm and sunny afternoon. Widnes' opening pair came racing out of the blocks striking 76 in the first 11 overs on the back of Aaron Soni's 53 from 48 balls. Stand-in skipper Richard Wilkinson claimed Shashwat Rusia caught in the slips to inflict the first wicket and seamer Dan Fesmer and spinner Will Valentine bowled well in tandem to help Alderley to drag back the visitors' scoring rate at 118-3.
Matt Burns struck a composed 83 from number 4 in a stand of 102 with Luke McCoy who hit a typically brutal 53 from 38 balls as Widnes rattled along to 220-3 before Fesmer returned to dismiss both in a crucial spell of 3-41 and Archie Vaughan was unlucky to only claim 2 wickets from a tidy 8 over spell of spin as Widnes closed on 255-7 from their 40 overs representing a good fightback by the hosts after a difficult start.
With the bat Alderley started brightly as openers Tom Foreman and Ashray Bhamidipati proceeded to 64 in quick time, Bhamidipati taking a particular liking to the spinners with two big sixes struck in his 38 before becoming one of three victims for Burns who enjoyed a good all-round performance. Foreman proceeded to his 50 with a number of well-timed strokes but when he became Alderley's fourth wicket to fall with the score on 129 the visitors had started to take the ascendency.
A fighting knock of 26 from Will Valentine batting at number 5 was ended by one that kept low, as Alderley's lower middle order was swept away to leave the hosts on 176-8. Kiwi Jimmy Naylor provided Alderley a lifeline striking four 6's in a free-flowing knock of 41 from just 21 balls from number 9 until he was well caught in the deep to give Joe McCurdy his second wicket of the afternoon. Numbers 10 and 11 Dan Fesmer and Andrew Windle kept Alderley in the contest into the final over, Fesmer with 26 not out from 21 balls providing the main source of hope for the home team, but with the asking rate climbing and Widnes' returning opening bowlers precise in their execution the final pair couldn't muster the 20 needed off the final over which saw Widnes progress with victory by 8 runs beating Alderley for the second time this season at Moss Lane.
On Saturday Alderley's Second XI hosted Chester Boughton Hall at Moss Lane where the hosts won the toss and batted first mustering 158 before being dismissed with two balls of their 50 overs to spare. Opener Andrew Kennedy top-scored for Alderley with 27, contributions also came from Liam Yahathugoda with 26 and 23 from Ben Chapman, Robin Fisher taking 4-38 and Alex Townend 3-26 for Chester. In the second innings George Valentine struck early to leave the visitors 26-1 in the opening overs of their reply before knocks of 35 from Luke Ramsay and 34 from Reg Wyatt set Chester on their way with 37 not out from number 4 Ashraf Quereshi seeing the visitors over the line to a 5 wicket victory, Ashray Bhamidipati taking 3-32 to help Alderley collect 6 points from the fixture.
On Sunday Alderley's Third XI faced current table-toppers and perennial Third XI powerhouses Didsbury at Wilmslow Road mustering 172-9 from their 45 overs after being asked to bat first with Tejas Rao continuing his recent good form with 49 from number 3, opener Alfie Usher hitting 44 and Ed Pitt weighing in with 35 not out from number 8. Didsbury reached their target in the 31st over for the loss of two wickets to give them the 25 points with Katie Haszeldine and Sam Woolf taking a wicket each for Alderley who claimed 6 points from the afternoon to keep them 7 points clear of the relegation places.
Match report by Andrew Windle.