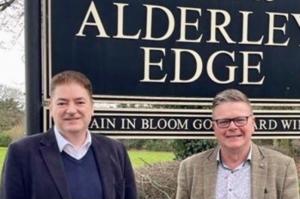 Councillor Craig Browne is taking part in a sponsored walk this month to raise money for a youth mental health charity and the humanitarian relief effort in Ukraine.
On Friday 13th May, Congleton Councillor & Town Crier, Cllr Rob Moreton is walking from Congleton to Manchester and Councillor Browne will be joining him from Alderley Edge when he passes through the village at around 10.30am.
He will will raising funds for "Visyon" but will also be collecting on the day for the British Red Cross Ukraine Appeal.
Councillor Craig Browne said "Visyon is a charity that I have long had an affiliation with, having worked as a freelance fundraiser to support their move to Fellowship House in Congleton, a few years ago. Throughout my working career, I have had a passion to support young people, particularly those at a time of transition of challenge. Visyon's objectives as a charity have a high level of synergy with my own values and I am delighted to be working with them as they seek to support young people in East Cheshire, particularly those struggling with mental health.
If you would like to sponsor Craig you can donate online at https://visyon.enthuse.com/pf/craig-browne or join him at 10.30am on Friday 13th May to support the humanitarian relief effort in Ukraine.