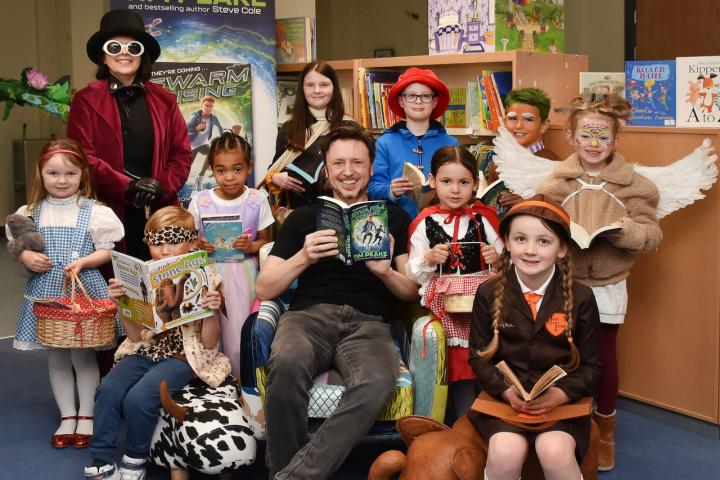 Promotional Feature
Multi-million bestselling children's author Steve Cole launched his latest book 'Swarm Rising' at The King's School on World Book Day.
Written in partnership with astronaut Tim Peake, the book takes up an idea that the British astronaut had while on the International Space Station.
Steve told the King's School's young readers: "Our own British astronaut Tim Peake dreamed up the idea while he was on the international space station looking out into the vast, infinite blackness of space and trying to imagine how we might make first contact."
"He thought what if an alien intelligence was able to download its intelligence onto a tiny speck of matter that could then travel the vast distances of space at the speed of light and when arriving on earth could then print itself out a human body."
"What would that mean for the Human Race and how would we react when the swarm rose?"
Steve, who has written 210 books for pre-school children up to older teenagers, including accounts of the young James Bond for the Ian Fleming estate, and has sold over 3 million copies world-wide, was keen to explain the secret to getting the reader to turn the page.
"You have to throw your imagination into the written word and write about the extraordinary, never the ordinary. If you want your reader to turn the page you must leave each chapter with a cliff hanger, creating a world of excitement they want to explore for themselves."
King's Infant & Junior Division Year 4 teacher and Head of English, Soulla Costanda, organised an epic celebration of World Book Day with children and teachers dressing up as their favourite character.
Dressed as Willy Wonka, Ms Costanda said: "In an age where technology plays such a dominant role in young lives, it is even more important for children to appreciate at as early an age as possible, the sheer joy of getting lost in a good book."
"To celebrate World Book Day this year, classes held fancy dress parades and the children wrote a review of their favourite book and explained why they chosen their fictional character. As teachers we simply want to widen their horizons and encourage them to read a whole range of material, so they can enjoy the world of imagination."