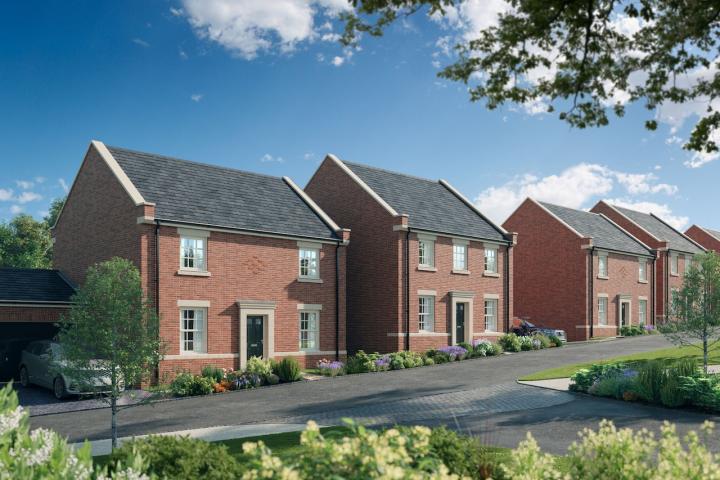 Jones Homes is preparing to start work on 50 new homes in Nether Alderley after purchasing 6.3 acres of land at Alderley Park.
The development, to be known as Alderley Gardens, will transform two sites within the 400-acre Alderley Park country estate.
Jones Homes, which is based under two miles away in Alderley Edge, will build 33 homes on vacant land which was historically used as a kitchen garden. The remaining 17 homes will be built within the former walled garden which sits on adjoining land.
The housebuilder, which is part of The Emerson Group based in Alderley Edge, secured planning consent for the development of three, four and five-bedroom homes in December. The land deal was completed in February.
Mark Emerson Jones, Deputy Chairman of The Emerson Group, said: "Jones Homes will take great pride in delivering the sensitive redevelopment of a key site within this attractive parkland setting.
"Jones Homes is known for creating homes of exceptional quality and design, and this hallmark will be identifiable at Alderley Gardens.
"We have a long heritage in Cheshire and have earned a reputation for building attractive developments which take an architectural lead from the area.
"At Alderley Gardens, there will be a blend of traditional and contemporary designs to echo the new and converted listed buildings which now sit within Alderley Park.
"We anticipate this development attracting interest from people across Cheshire who are seeking a more balanced lifestyle. With leisure and dining facilities already in place, and Alderley Edge so close by, Alderley Gardens will offer a tranquil yet well-served community within one of Cheshire's most sought-after areas."
Alderley Park is home to a state-of-the-art gymnasium, sports and leisure facilities, a pub, restaurants and coffee shops.
In line with planning agreements for the development, Jones Homes will be contributing £700,083 in the form of a Community Infrastructure Levy. The developer will also set aside 15 per cent of the homes at Alderley Gardens for key workers to reserve at a discounted price.
Alderley Gardens is perfectly located just under ten miles away from the M6 and eight miles from Manchester Airport. Local shopping and leisure facilities such as The Trafford Centre and The Arndale Centre are also just under 20 miles away.
With construction work due to start imminently at Alderley Gardens, the first homes are expected to be released for sale in the summer.
For more information, see jones-homes.co.uk.
Photo: Some of the homes to be built within Jones Homes' Alderley Gardens development within Alderley Park, Nether Alderley. A combination of traditional and modern homes will be built throughout the site.
Tags: