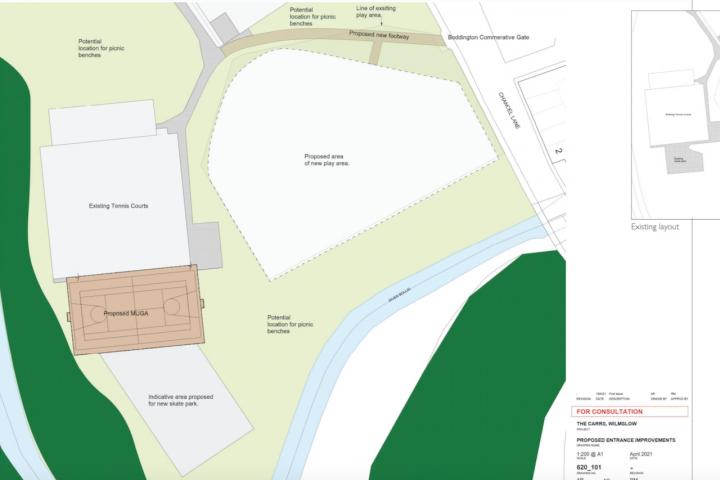 Cheshire East Council have been working on a plan for the future development of the town park.
The aim of the master plan is to draw up a long term vision for The Carrs which will create greater accessibility to all user groups, improvement the river
embankment, increase and develop the green infrastructure through new planting and management of existing plants, improve the quality of play opportunities and review the site facilities including toilets, parking, play equipment and the cafe.
Initial proposals include new picnic benches, a multi-use games area (MUGA), new skate park, new play area and new footpaths
Councillor Mick Warren, chair of Cheshire East Council's environment and communities committee, said: "Our environmental services company Ansa has been working hard in partnership with Wilmslow Town Council, The Friends of The Carrs, The Bollin Valley Rangers and The Wilmslow Neighbourhood Plan Biodiversity Group, to support the growth of the park for all its visitors.
"This is already a very well-informed plan. We are adopting a holistic approach to ensure sensitive development of the park, focusing on connecting its many different aspects.
"Our focus is very much on community health and wellbeing and increased opportunities for biodiversity. Naturally, we are keen to share information about the park and our plans to improve it.
"This community engagement exercise is to gather further information and feedback and we welcome all comments and ideas. To do this, please email: [email protected]"
Information boards about this have recently gone up in The Carrs and the associated landscape design plan can be accessed via the Cheshire East Council website.
A spokesperson for Cheshire East Council said "A combination of the community engagement feedback, available resources (funding, staff and volunteers) and CEC and town council priorities will determine the order we approach the different elements of the masterplan.
"However, where we have the capacity we can start straight away, for example we started the new grassland management this year."
Tags: