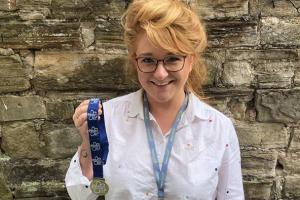 Promotional Feature
Sarah Vickers from the Wilmslow office of Carefound Home Care took on the challenge of swimming 10 miles in 30 days to raise over £300 for Alzheimer's Society.
Sarah was only allowed to swim for 45 minutes at a time due to COVID-19 restrictions so was forced to swim three times a week and keep track of her progress on her smart watch. In total she swam 644 lengths over 30 days to reach her target of 10 miles.
Sarah Vickers, Care Manager at Carefound Home Care in Wilmslow, said: "In my role at Carefound Home Care I have seen first-hand how difficult the COVID-19 pandemic has been for people living with dementia.
"I really enjoyed taking part in the Swim for Dementia challenge and I'm very proud that my efforts have helped raise money for Alzheimer's Society.
"£300 means that over 1,800 people can access Talking Point, their online forum, where people can learn from each other's experiences, share their frustrations and their knowledge of local services."
Linzi Stewart, Community Fundraising Officer at Alzheimer's Society, said: "Following a difficult year for people with dementia, we are in awe of supporters like Sarah whose brilliant fundraising efforts enable us to reach more people through our vital support services, like the Dementia Connect support line.
"Our services have been used over 6 million times since the first lockdown began in March last year and have been a lifeline to thousands, but there are so many more who urgently need our help."
Feeling inspired by Sarah? From running your local 5K, trekking the Yorkshire 3 Peaks, and cycling from London to Paris to skydiving, there are plenty of ways to fundraise for Alzheimer's Society. Find out more at www.alzheimers.org.uk.
To learn more about how Carefound Home Care are helping people living dementia in Wilmslow, Altrincham, Knutsford and Macclesfield, or to join their team, call 01625 326470 or visit www.carefound.co.uk/locations/cheshire.
Photo: Sarah Vickers of Carefound Home Care in Wilmslow with her Swim for Dementia medal.
Tags: