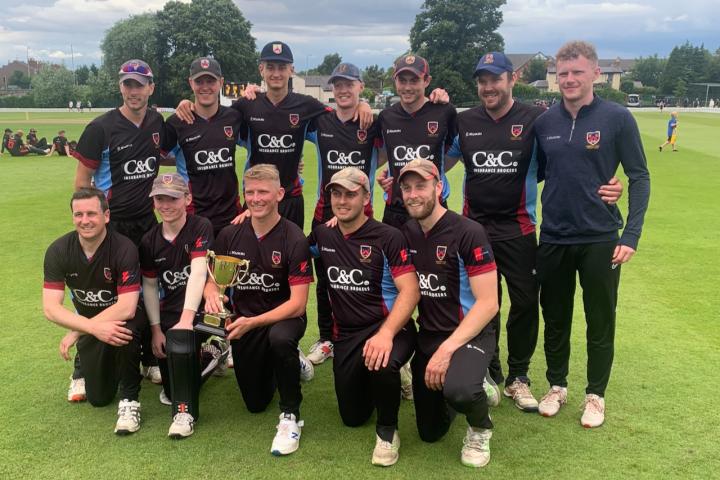 Alderley Edge claimed their first silverware of the season on Sunday afternoon after defeating Chester Boughton Hall and Nantwich to win the Cheshire County Leage T20 Championship at Chester.
Winning the toss and batting first against Chester Boughton Hall, Alderley's opening pair laid a strong platform amassing 87 for the first wicket with Sam Perry hitting 66 from 39 balls and Ed Fluck 40 from 22. Chester fought back with the ball through Harry Kiloran (2-26) and Rick Moore (2-29) to slow Alderley's progress but a steady 32 from Ed Foster batting through from number 4 held things together leading to Alderley posting 166-6 from their 20 overs.
Some early big hitting from Chester opener Warren Goodwin (23 from 9 balls) saw the hosts race out of the blocks in the second innings with number 3 Alex Money picking up the gauntlet striking 57 off 42 balls. Crucial spells from spinners Charlie Reid (3-28), Will Valentine (2-26) and Alan Day (1-11) prevented further partnerships at crucial points through the innings and although Chester's tail continued the big hitting with some late, lusty blows Alderley's bowlers held their nerve, backed up by some excellent catching and fielding in the deep to take victory by 8 runs.
Alderley progressed to meet Nantwich in the final who had narrowly defeated Oxton in the other semi-final. Winning the toss and bowling first Nantwich were devastating in the early period reducing Alderley to 9-3 inside the first 3 overs. There were to be no further Alderley losses however as Tom Foreman (78 from 55) and Ed Foster (64 from 54) constructed an amazing 147 run partnership, blunting the Nantwich attack before counter attacking to completely change the course of the first innings allowing Alderley to close on a competitive 156-3.
Alderley made a strong start in the second innings, captain Chris Sanders making a big dent in the Nantwich reply by sending opener Aneesh Kapil's off stump cartwheeling in the third over. From 28-2 Nantwich's recovery was led by the big-hitting Luke Robinson who hit seven 6's in his innings of 63 from 35 balls before Dan Fesmer returned to bowl him through the gate, picking up 3-27 from 4 excellent overs. At 108-5 Alderley were tightening their grip on the game with the spin of Alan Day crucial in helping push Alderley closer to the finish line taking 2-20, including the dangerous Ollie Griffiths for 13. With the required run rate climbing and Nantwich's top order dismissed Alderley closed things out with Chris Sanders picking up 2-16 as Alderley claimed the win by 18 runs to lift the T20 trophy after a fine all round display. Alderley will now go on to represent the Cheshire County League at the regional finals day in August.
T20 victory came hot on the heels of Alderley's continued good run in the 55 over format on Saturday with a 6 wicket win over Oxton at Moss Lane. Skipper Charlie Reid won the toss and elected to bowl first with the Alderley attack responding to reduce the visitors to 56-4. Some big hitting from number 5 Grant Hughes provided a brief highlight for Oxton before he became one of two victims for Chris Sanders (2-30) having carried the visitors to 102-5 with opener Jonny Crick holding the innings together with a battling 59.
Alderley seized the initiative with the ball again with Crick the 9th wicket to fall giving Richard Wilkinson another five wicket haul (5-42) before wrapping up the inning on 173 in the 45th over. An opening stand of 141 between Ed Foster (56) and Sam Perry (80) broke the back of the chase for the hosts with Henry Dobson claiming a couple of wickets in consolation (2-38) for Oxton before a flurry of boundaries from George Bell took Alderley to their target with the loss of 4 wickets to claim the 25 point victory.
Alderley's 2nd XI secured a draw in their match with Bowdon at South Downs Road in a rain affected contest with the visitors posting 134 from 48 overs on a tricky batting surface, Bowden seamer Hal Dwobeng taking 5-21. Dwobeng then struck an unbeaten 55 as Bowdon were left 31 overs to chase Alderley's score, the visitors fighting back well after the hosts' 85 run opening stand put them in a strong position. A crucial spell of 4-44 from Archie Vaughan the main factor in Alderley halting Bowdon's victory attempt with the home side closing 7 wickets down on the same total.
On Sunday Alderley's Third XI claimed a three wicket victory over Grappenhall in a low-scoring encounter at Broad Lane. Winning the toss and bowling first Alderley dismissed the hosts for 97 with the bulk of the damage inflicted by Ashray Bhampidipati who took 5-23. Bhampidipati then hit 22 from the top of the order to set Alderley on their way before three wickets for Fameesh Azeez slowed the visitors run chase, but Sam Woolf's 27 from 25 balls from number 6 took Alderley to their target in the 29th over to claim the 25 points.
Match report by Andrew Windle.