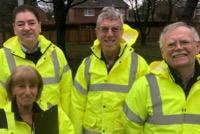 Alderley Edge Community Speedwatch Team has been awarded a grant to enable them to purchase additional equipment.
The Parish Council are receiving a Community Police Grant of £407.45 on behalf of the group which will help pay for increased signage for a speedwatch area, a second speed gun to help the volunteers carry out sessions at more locations and high-vis jackets for the volunteers.
Community Speedwatch Co-ordinator and local resident Margaret Bilsborough commented "During the pandemic we have had to curtail our regular Community Speedwatch activities, but we are grateful for this Community Police Grant which will help to raise awareness of our activities, as well as providing extra equipment for our volunteers.
"We are looking forward to starting our sessions again, as soon as it is safe and legal to do so."
PCSO, Callum Edwards, who put the group forward for an award, said "Alderley Edge Community Speedwatch has been successful in its application to Police & Crime Commissioner David Keane's Community Police Fund to deliver a project to make Alderley Edge Safer. I am proud to have played a part in making this possible."
Photo taken before the pandemic.