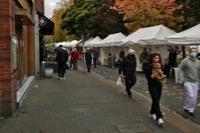 The organisers of Wilmslow's monthly Artisan Market have confirmed that the event scheduled for Saturday 21st November has been cancelled.
Denise Valente said "We are very sad to let you know that we have taken the decision to cancel this month's Wilmslow Artisan Market, due to the current lockdown restrictions.
"Based on the Government guidelines, and despite the fact that some markets can go ahead under the guise of 'selling essential items', we feel that if we were to go ahead with the event we would be contradicting the aims of this second lockdown, which is to encourage everyone to stay home and limit contact with others as much as possible.
"This together with the limitations which would not allow any craft, art or design stalls to partake nor streetfood (as this has to be click and collect, pre ordered and takeaway only) means the offer would be significantly reduced.
"This decision will have a dramatic financial impact on many of our artisan traders as well as ourselves BUT my conscience says I would rather keep both our traders and you and your families safe than put income over your health and safety. If we make this lockdown have a positive impact it may mean we can have the family Christmas we all hope for.
"We ask you to support our traders by visiting our new online marketplace #ArtisansOnline where you can find many of your favourite artisans and their fabulous products. We have over 2000+ food, craft, drink, art, design products already listed with more being added every day.
"These are YOUR local artisans not anonymous Amazon sellers – and they NEED YOU!"
Denise added "Fingers crossed we will be back in December."
Tags: