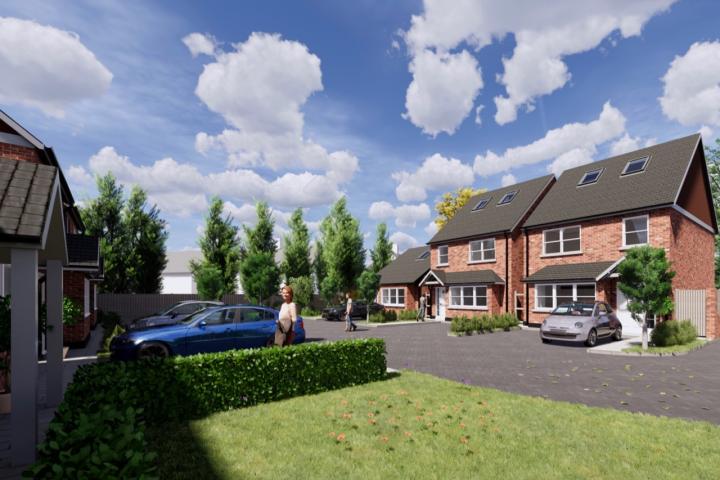 Revised plans to build six houses on a plot of vacant land which was left to the RSPCA by a wild life enthusiast will be considered by the Northern Planning Committee next week.
Deanbank Investments were refused planning permission in November 2018 to build a row of 8 three-bedroomed terraced houses along with 25 car parking spaces on the land off Heyes Lane.
The initial plans were refused on the grounds that, due to its scale, layout and landscaping, the proposal "would result in a car-dominated, overbearing development of poor design which would result in a strong impression of overdevelopment visible in the surrounding built context".
Deanbank Investments are now seeking permission for a revised the scheme of two rows of three houses. Each house has 4 bedrooms, one of which will be located in the loft space, and two parking spaces.
Objections were received from 91 properties, over the three periods of consultation, including a petition from the Edge Association residents group, however the Planning Officer is recommending the Northern Planning Officer approve the application.
The officer concluded that the site is sustainably located within easy walking distance of the village centre, the development is acceptable in terms of its impact upon neighbouring properties, its impact upon the highway network and parking provision.
Issues raised by residents include the development and design are out of keeping with the traditional character of the area and the scale will dominate neighbouring properties, loss of grass verges along on Heyes Lane will undermine the historic character of the area, overdevelopment of the site, dwellings too large and close to each other, proposal does not match the local housing requirements specifically in relation to affordable housing and the latest Cheshire East Council SADPD has been revised to remove any allocations from Alderley Edge.
Alderley Edge Parish Council recommended refusal the plans on a number of grounds and requested its call in to committee.
They stated "It is an over intensive development and the design of houses not in keeping with the character of its intended location. The massing of the proposal would be overbearing to neighbouring properties in both its height of 3 floors and proximity (a case in example plots along the NW side and neighbouring Oakfield Close). The cited example of precedent of 71 Heyes lane is not in context. There would be loss of amenity to other existing properties in way of access, loss of privacy by overlooking, probable loss of daytime sunlight. There is insufficient car parking provision that is not to required CE policy. Provision of amenity space to future occupants seems inadequate, this emphasises the over intensive nature.
"Access to and from Heyes lane would be a severe concern, the junction is narrow, with limited splay and much needed on street parking further inhibits visibility onto a busy road. There would also be concerns around drainage and water provision and there are numerous rights of way and ownership issues that need to be resolved."