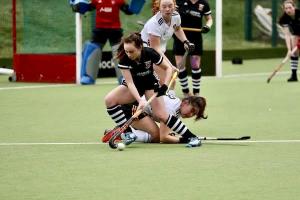 Women's Northern Conference National Hockey League
Alderley Edge 1's vs Timperley 1's
Result: 5-2
Alderley Edge began strongly with the majority of possession and moving the ball quickly between the oppositions lines. This resulted in a early penalty corner which resulted in an incredible reverse stick deflection from Lexi Archer which nestled into the back of the Timperley net. 0-1 Edge!
Alderley Edge continued to play some great spells of hockey. However, a well taken short corner, an unfortunate flick and a couple of quick counter attacks, Alderley Edge found themselves 4-1 down.
The gap was narrowed in the 54th minute after Sarah Hopkin drove the team forward from midfield before off loading the ball to Lexi Archer who crossed the it for Sacha Hateley to deflect it into the Timperley goal, 4-2.
Alderley Edge continued to push for the third goal, creating many opportunities but unfortunately we're unable to find the back of the net. Timperley rounded the scoring off to make it 5-2.
A frustrating result in challenging conditions but plenty of positives to take into next weeks game at Loughborough.
Special mention for man of the match, Lexi Archer, for her outstanding elimination skills and excellent tacking.
Men's Northern Premier Hockey League
Alderley Edge 1's vs Leed's 2's
Result: 1 - 4
With new coach Stefan Ray-Hills on board, and a good pre-season, Alderley Edge men's 1's were looking forward to getting their league games underway. First up was a game at The Edge against Leeds.
Alderley Edge started brightly, pressing effectively to win the ball back high up the pitch, leading to a number of chances. Unfortunately these chances couldn't be converted.
After Alderley Edges initial pressure, Leeds started to get into the game. Alderley Edge's defence, marshalled by Dom Graham, were matching Leeds's attacks, but could do nothing when the ball fell fortuitously to the Leeds striker after a good save by James Riley. 0-1 Leeds at half time
It was Alderley Edge who started the better of the two teams in the second half, and this time some smart work by Jack Smith and Ben Gregory led to an easy tap in for James Warburton.
After getting back to 1-1, Alderley felt a second goal was coming, but in chasing the game lost their shape allowing Leeds to find a man open at the back post to make the score 1-2.
Alderley Edge kept pushing for a goal, but this left space in behind for Leeds to exploit, which they did to make it 1-3.
Alderley Edge continued to pile on the pressure but as in the first half couldn't find the back of the net and after going close late in the game, Leeds were able to hit Alderley Edge on the counterattack to make the final score 1-4.
A good performance, and with better finishing the result could have been very different. Plenty to take into next weeks game away at Oxton.
Match report by Matthew Hobbs.
Tags: