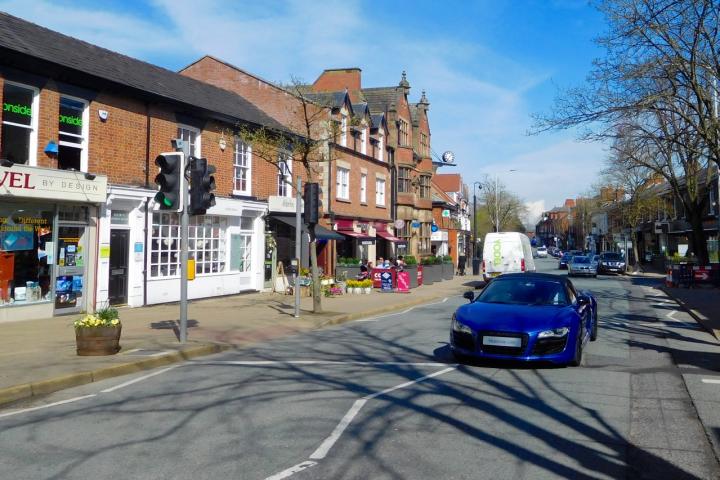 Following concerns from residents about high-performance cars and the manner in which some of them are being driven the Council is considering introducing a 20mph speed limit through the village centre.
Last year Councillor Craig Browne asked for a traffic assessment to be carried out which involved Automatic Traffic Counters (ATCs) being positioned at three locations on London Road for a seven-day period.
The results, which have now been published in the Stage 1 Feasibility Report, show that 85% of all vehicles were travelling at or below 25mph outside the former RBS and 23mph at the pelican crossing near the junction with Stevens Street, but 34mph at the third data collection point (by the de Trafford Arms). 37.2% of vehicles were exceeding 30mph at this location.
The report recommends that a 20mph zone should be implemented on London Road from the junction with Ryleys Lane to the junction with Macclesfield Road using signs on both sides of London Road along with painting 20mph on the road to highlight the start and exit points of the 20mph zone.
Councillor Craig Browne explained "The diversity of road users through the village (cyclists, emergency vehicles, buses etc) complicates the installation of physical speed control measures.
"Speed humps or carriageway narrowing measures were not considered to be practical options; however, the report does recommend that consideration should be given to the introduction of other physical infrastructure such as speed cushions."
At a meeting at the beginning of July, attended by representatives from Cheshire East Highways, Cheshire East Council's Anti-Social Behaviour Team, Cheshire Police and Alderley Edge Parish Council, there was broad support for the proposals, but with a modification that the zone should be extended at each end of the village to include Alderley Edge School for Girls and the junction with Beechfield Road on Congleton Road.
Craig added "A Stage 2 report will now be produced showing detailed design options, which will then be subject to a round of public consultation. This next stage in the process is estimated to take between three to six months.
"I would like to thank all the agencies for supporting me to make progress with this issue; in the meantime Cheshire Police will continue to monitor driver behaviour in the area."
What do think about the proposal to introduce a 20mph limit on this stretch of London Road? Will it resolve the problem? Share your views via the comment box below.