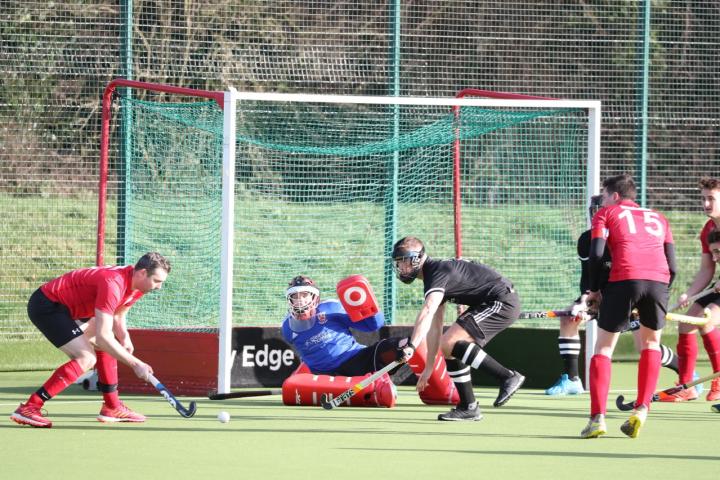 Alderley Edge Men's 1st team played host to Lichfield HC in the National Hockey League Conference North on Saturday going down 2-1 after a tense struggle.
Edge started well, looking smart in their new shirts sponsored by local builders Gleave Homes and prevented Lichfield from creating many chances. Edge took the lead after a well worked first time pass down the side line from Captain Chris Cook found it's way to Jack Smith who took it in to the D spun round the last defender and forced a save from the keeper who could only parry the ball to the on rushing Ben Gregory who calmly guided it in to the goal. 1-0 Edge after 9 minutes.
The lead was short lived as Lichfield struck back winning a penalty corner on 17 minutes. Rob Gray scored a superb drag flick low and fast in to the corner of the net. . Unfortunately the lead was doubled on 29 minutes with another powerful Rob Gray drag flick conversion just beating Edge keeper Sean Hadfield.
2-1 at half time. Edge had been sloppy in possession in the first half and needed to get more control in the second to stand a chance.
Edge continued to defend well and Lichfield didn't create many chances in the second half. Edge continued to press for the equaliser, but were let down by wayward passing and poor first touches. The game did eventually come down to a short corner to Edge at the end of time. Angus McCormick's drag flick forced a hand save from the keeper, but the rebound was not put away and Edge suffered yet another costly defeat that leaves them a lot of work to do to avoid relegation.
There are now some big games to come with points at a premium. Next weekend sees Edge travel to Barford Tigers, a tough encounter where the lads will need to raise their game to match the opposition with their two star Argentinian attackers.
Match report by Kelvin Briggs.
Tags: