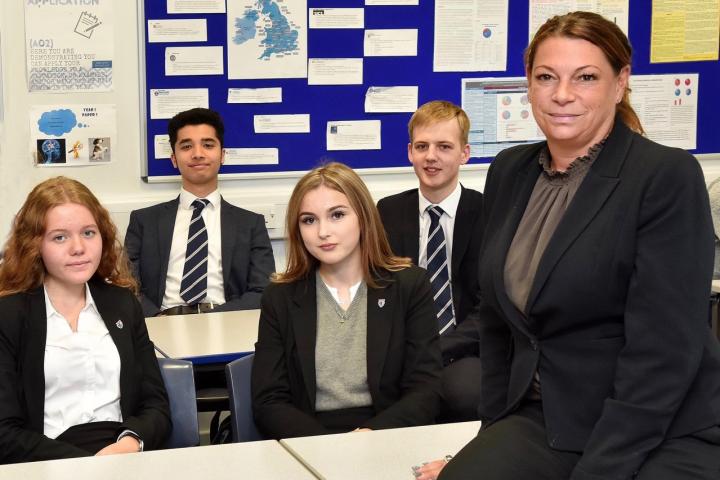 Promotional Feature
The letter and spirit of the Law were examined by barrister and Deputy District Judge Victoria Nassar.
Victoria was speaking at the King's School in Macclesfield to the Sixth Form students who want to pursue a career in the many arms of the legal profession.
She said: "When you are representing people, your conduct matters because your job affects their lives and how you interpret the law can have a very positive or negative outcome.
"It teaches you that appearances are not always reality and continually reinforces the need for objectivity."
Victoria, who lives in Wilmslow, entered the Law via an unusual route, having first completed an honours and then a masters' degree in psychology. She then took the law conversion course, before training and then working as a barrister in Gray's Inn, one of the four Inns of Court in London.
After successfully working as a sole practitioner, specialising primarily in human rights, she was appointed a Deputy District Judge and now sits in courts in Cheshire, Merseyside and Manchester. She added: "You can always say there is a case for reform for nearly everything and particularly at the moment on rapidly evolving European, asylum and human rights legislation, but whether in the judiciary, the criminal side or the civil side of the Law, I think the system works well and doesn't need major change."
Victoria used her talk to King's students to explain about the many different careers in the Law and which personal characteristics might suit which roles best and how to get a head start and impress the decision makers.
She was invited to speak by King's Careers and External Relations Officer Caroline Foster who said: "We begin to talk the pupils about their choices in Years 8 and 9, showing them which subjects at GCSE might be best to take. That process continues as they progress through the school and the more important choices at A Level."
Caroline added: "We advise on both the UCAS route for universities and the apprenticeship route across any and every discipline imaginable and we are extremely grateful to the many eminent professionals such as Victoria Nassar who come in and give an expert's view based on their in-depth experience."
Tags: