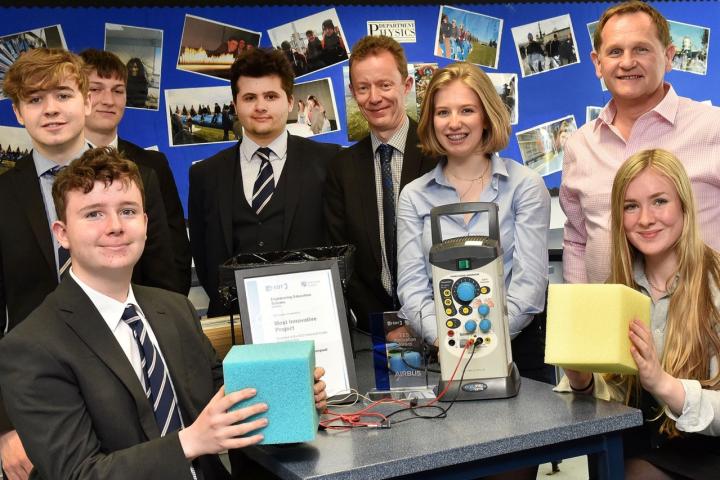 Promotional Feature
A team of King's School teenage research scientists have won the Engineering Development Trust's National Award for Innovation, after helping a world class engineering company reduce the bubble count in its polyurethane foam.
Working under the guidance of John Blackwell, Engineering & Technical Director with Opus Technical, who design and sell polyurethane foam manufacturing machinery worldwide, six brilliant Year 12 students have completed a six-month project to help improve their product quality.
Founded in 2012 by the long-established Macclesfield engineering family the Blackwells, Opus has a worldwide reach selling into leading foam manufacturers for the global furniture, clothing, automotive and aeronautical sectors, but as John Blackwell said, "we are always looking to improve on excellence." The team was therefore tasked to find a solution to the age-old problem of the polymer, from which the foam is produced, being filled with too many irregular and large bubbles called pin holes, because as John Blackwell added, "It's a long-standing issue that challenges manufacturers around the planet."
Now the team has come up with a technical refinement that can be bolted onto Opus Technical's range to give the company a further cutting-edge advantage.
John Blackwell, a Chartered Engineer and a STEM Ambassador with a mission to encourage more young Britons into careers involving Science, Technology, Engineering and Maths, said: "It's a genuine privilege to work with these young students. They have a purity of scientific knowledge which brings a fresh insight into the Research and Development process."
The King's team presented their work both in a detailed written report and in an oral presentation in front of a panel of industry experts at Liverpool University, winning the University's best project award, with all six team members classed as national EDT Gold Award winners.
Student Sam Rogers, 17, who wants to study Electrical Engineering, said: "It was wonderful to take my work out of the classroom and be involved in a real issue for a real company." Joshua Howdle, 17, who wants to read Chemical Engineering, added: "I enjoyed getting a deep understanding of a different topic, which is not on the curriculum."
Aidan Carman, 17, who also wants to read Chemical Engineering, added: "I enjoyed testing the theory we learn in class in a practical and commercial setting."
Adam Humphreys, 17, said: "I enjoyed breaking down complex problems into distinct and solvable component parts." Abby Todd, 17, who wants to study Medicine, said: "I loved working as a team and collaborating on complex solutions," while Aisling Day, 17, who wants to read Chemical Engineering, concluded: "It was refreshing to bring our work into the real world and out of the classroom."
King's Head of Physics, Dr Stephen Hartnett, who oversaw the project, said: "Mr Blackwell and Opus Technical have worked with King's for some years now presenting our students with exciting technical challenges which fire their enthusiasm not only for academic success but for careers in British innovation. Such is the quality of the project that the team is now being entered for the prestigious Gold Crest Award."
Pictured (from left) are: pupils Sam Rogers, Adam Humphreys, Aidan Carman, Joshua Howdle, Dr Stephen Hartnett, Aisling Day, John Blackwell from Opus and Abby Todd.
Tags: