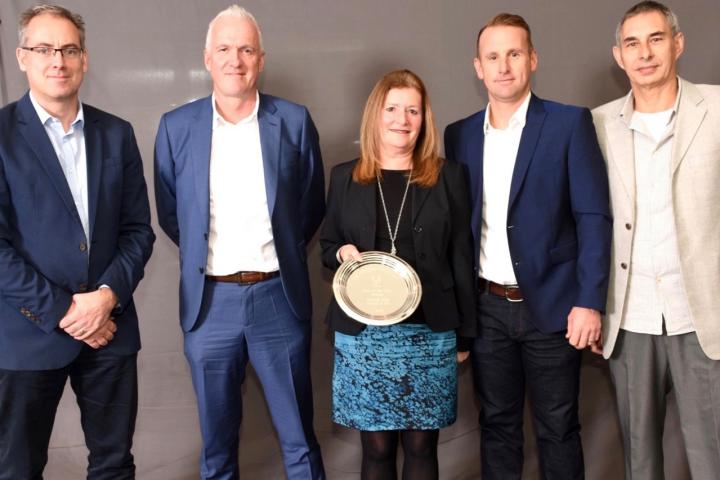 Alderley Edge Tennis Club is delighted to have won the Cheshire 'Tennis Club of the Year' at the Cheshire LTA awards ceremony on Monday, 19th November.
The club, which was one of five to have been nominated for the award by the Cheshire LTA Committee, was selected by the Cheshire committee as the winners, which is a first for them.
Ruth Samuels, Honorary Secretary, said "The award was presented by Paul Bennett LTA Head of Northern Region and recognised the excellent coaching programme run by the coaching team as well as the fact that the club is installing 5 new artificial clay courts and an additional 5 sets of floodlights, setting up the club for the future."
Construction is now well under way and the courts are due to be completed by spring.
Additionally, Jan Slack picked up the 'Tennis for Life' award - in recognition of 35 years of fund raising for Cheshire LTA; David Patterson won the LTA National Team Organiser of the Year - for organising the Cheshire LTA Team Tennis leagues with the highest percentage of completed matches; Stuart Murray - was a finalist in the 'Team of the Year' as team coach / captain of the Under 14 Cheshire Boys team who reached the National finals and Ruth Samuels was a finalist in 'Volunteer of the Year'.
Also recognised in the 'Salute to the Champions' were : Mason Dace - winner of the Cheshire Under 14 Boys Doubles; Seb Jackson - winner of the over Cheshire 35 Mixed Doubles; James Stokes - winner of the Cheshire over 55 singles and Seb Jackson who captained the 45 and over men's team who finished fourth in the World Championship.
Photo: (from left to right) - Paul Bennett - Head of LTA Northern Region, James Stokes - over 55 Cheshire Champion, Ruth Samuels - Finalist Volunteer of the year, Stuart Murray - Finalist Team of the Year, Richard Sibbett - Courts Project Team member.
Tags: