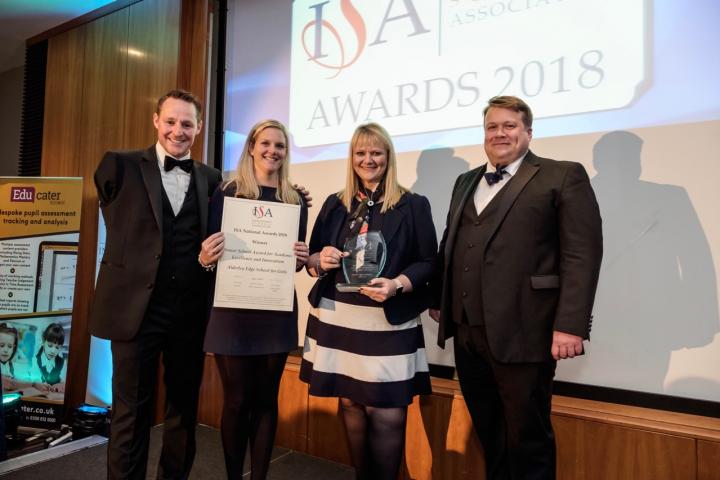 Promotional Feature
Alderley Edge School for Girls is delighted to announce that it has won the prestigious national award for 'Academic Excellence and Innovation' from the Independent Schools Association (ISA). The School received news of the accolade from ISA CEO Neil Roskilly and guest speaker, Paralympic gold medallist Danny Crates, at the recent Autumn Study Conference Gala Dinner. The School was also named a finalist for 'Excellence and Innovation in Pupils' Mental Health and Wellbeing.'
The ISA is one of the oldest independent schools' organisations in the country with over 500 member schools looking after more than 100,000 pupils. The annual awards celebrate the very best within the sector, recognising the breadth of quality and experience in a wide range of award categories from Early Years to STEM and Sporting provision. The judging panel comprised experienced professionals working within the sector alongside event sponsors.
Following on from the School's best ever A Level results, the School has had a fantastic few months. News of the award win comes only days after the School received Apple Distinguished Schools status for 2018 – 2021, highlighting the School's success as an innovative and inspiring learning environment. The School has also been shortlisted for the Independent Girls' School of the Year award by Independent School Parent Magazine.
Headmistress Helen Jeys commented, "We are delighted to have been recognised by the Independent Schools Association in this way. We aim to provide a learning environment for our students which is stimulating and inspiring as well as one that is relevant for those going onto careers in the 21st century. With our use of technology that enriches lessons and teachers who are passionate about their subjects and who aim for each and every student to reach her potential, we are delighted that AESG has been recognised by such a prestigious organisation as ISA."