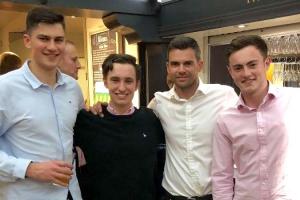 A packed house at Alderley Edge's Moss Lane clubhouse joined England's King of Swing Jimmy Anderson to kick off Alderley Edge CC's season with another successful Annual Dinner held on Friday 13th April.
Following a three course meal Jimmy, taking time out following England's recent tour of New Zealand, entertained club members and guests in a question and answer session hosted by Lancashire's Director of Cricket, and Alderley member, Paul Allott. The event was a great success for the club with around £6,500 raised for club activities and one member successfully bidding for the unique prize of a bowling masterclass and personal tour of Old Trafford with Jimmy himself. Jimmy stayed on after the formalities had concluded to share further stories with members from his 136 test career during which time he has become England's highest wicket taker with over 500 scalps to his name. The Alderley Edge Committee would like to express their sincere thanks to Jimmy for his support of the event.
On the pitch things started slowly for Alderley with the opening First XI fixture on the 21st April against Nantwich at Moss Lane called off due to areas of the ground being unfit following prolonged rain through the preceding weeks. The Second XI were able to complete their reverse fixture at Nantwich although this resulted in an opening day loss for Jon Usher's side. The hosts won the toss and elected to bat amassing 233 for 8 from their 50 overs with 63 from Chris Simpson and 60 from Ben Johnston in the Nantwich middle order providing the bulk of the home side's total. Veteran David Johnson proved most effective for Alderley with the ball taking 3-54 from 15 overs, Katie Haszeldine weighing in with 3-50 from her 8 overs and Tom Foreman contributing 2-42 for the visitors. In response Alderley could never quite match the pace required to overhaul the host's total, eventually being bowled out in the 49th over still 51 runs short. Ollie Wildig providing the outstanding innings of 85 from 106 balls in Alderley's total of 182. Opener Ben Johnston completed a fine all-round display for Nantwich with 4-23 from 10.4 overs.
Both First and Second XI fixtures this weekend against Timperley again fell victim to heavy rain on Thursday and Friday with both grounds deemed unfit for play. The First XI in particular will be hoping for better fortune, and weather, this week when they play host to defending Cheshire League champions Chester Boughton Hall on Saturday followed by Upton in the Cheshire Cup on Sunday.
Match cricket finally got under way at Moss Lane on Sunday, with the Third XI entertaining Lindow Fourth XI in the Joseph Holt Brewery T20 competition. Under newly appointed skipper Harry Elms, tight bowling from the 6 man Alderley attack limited the visitors to 66-5 off 20 overs. In reply, Mike Higginson (32) and Joey Chong (17 not out) led the charge and the runs were knocked off inside 12 overs for the loss of 2 wickets to give the Third XI an emphatic win to start to the season.
Match report by Andrew Windle.