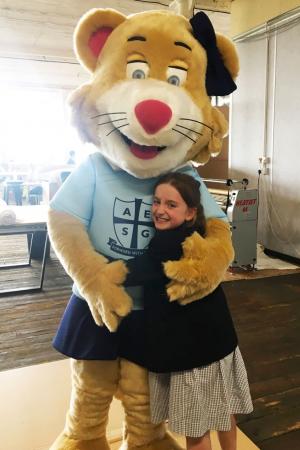 Promotional Feature
Alderley Edge School for Girls' Junior School has a new, fluffy, member of the family.
Before the summer holiday, the Junior School held a competition open to all the girls to design a mascot which would be unique to AESG.
The mascot had to be visualised, drawn and a list given of the various traits which it would have, traits which would inspire our girls and make the mascot a true member of the AESG family.
Mrs Jeys, Headmistress and Ms Howard, Junior School Headmistress, had the difficult task of considering the many applications, all of which were excellent! After much deliberation, a decision was made.
The winning mascot idea and design belongs to Eva in Year 4. Her idea was unique, beautifully drawn and the personalities of her mascot were perfectly suited to the AESG ethos.
Eva designed Liberty the Lioness, who has qualities of strength, braveness and powerfulness. Liberty is also fearless, mighty, determined and motivated. She is dressed in AESG uniform complete with a corporate blue bow in her hair!
AESG partnered up with Frenzy Creative, the UK's largest mascot making company based in Stockport, to ensure Eva's unique design was brought to life perfectly.
After weeks of eagerly waiting to see the final product, the day arrived for Eva to visit Frenzy Creative HQ to meet the team and Liberty herself. Along with Ms Howard and Miss Lockitt, Marketing Officer, Eva received a tour of Frenzy Creative before meeting the mascot she created.
Ms Howard stated what an incredible opportunity this is for Eva and how fantastic the trip was.
"This was a wonderful opportunity for our girls. Not only do we now have a wonderful mascot for our Junior School but we have also had an insight into the fascinating work of this local company!"