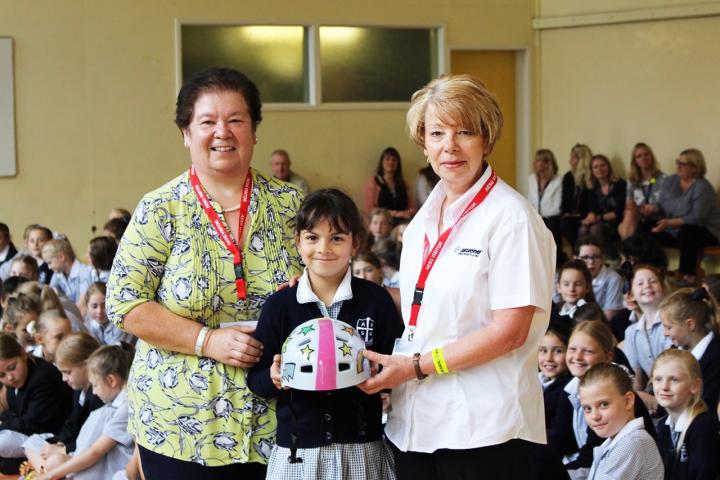 Pupils at Alderley Edge School for Girls were treated to an interactive cycle safety talk – thanks to the snazzy artwork of one of the pupils.
Eight-year-old Charlotte Cassidy came out on won national Design a Helmet competition and as part of the prize more than 200 girls received a special cycling safety talk on Thursday, 29th June, from Angela Lee, chief executive of The Cycle-Smart Foundation.
Charlotte's design – based on a weather theme with rainbows, lightning, sun and stars - was also made into a real helmet.
There's still more to come as the pupils will be treated to a bike stunt show from The Extreme Mountain Bike Team at the school at a later date.
Bridget Howard, headmistress of Alderley Edge School for Girls Junior School, said: "The pupils really enjoyed the safety talk, which was thought-provoking and extremely worthwhile.
"We're delighted that Charlotte came out on top in this national competition. It was an excellent design and her helmet looks fantastic.
"We're really looking forward to the stunt show. That should be a real treat for Charlotte and her friends."
Sally Travis, marketing manager at FUCHS SILKOLENE, who organised the competition, said: "We were delighted to visit Charlotte's school to present the helmet and to offer the cycle safety talk. We're looking forward to returning later in the year with the thrilling stunt show.
"Charlotte produced a fantastic design which was worthy of winning the competition."
Photo: (l-r) Angela Lee, Chief Executive of The Cycle-smart Foundation, Charlotte Cassidy and Sue Connor, FUCHS.