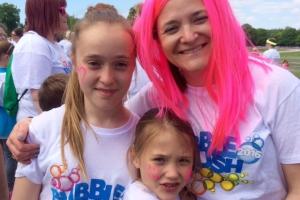 The Bubble Rush now in its third year, is proving to be one of the most successful in the East Cheshire Hospice fundraising calendar with hundreds taking part last year.
More of a fun run than a race, the 5k event is proving a popular event for people of all ages, particularly groups of families.
The race was new to the UK when it was first introduced in 2015 at Oulton Park by the Hospice working jointly with St. Lukes Hospice. This year the event will take place on Saturday July 1st and the venue has changed to Alderley Park, making it more convenient for "bubblers" from the local area.
One of last year's "Bubblers", Rachel Pugh, who took part with her daughters Sophie, 12, and eight-year-old Elizabeth, says they enjoyed tackling the walls of coloured frothy suds that lie around the route.
Rachel, who takes part in the event to remember a colleague who lost his battle with cancer some years ago, said "There are very few events that you can take part in as a family.
"It's all very inclusive with no competition and no pressure on anyone to do anything other than have fun!"
Jessica Ruth, Events Manager at East Cheshire Hospice, says: "We can't believe how popular Bubble Rush has become in such a short space of time. Everyone always has so much fun and we hope the change of venue will bring out even more people this year. "
Tickets are available on the East Cheshire Hospice website priced £25 for adults and £10 for children.
The event begins at 11.30am and there'll be plenty of food and DJ entertainment before and after the run.
Photo: Rachel Pugh with daughters Sophie and Elizabeth at last year's Bubble Rush.