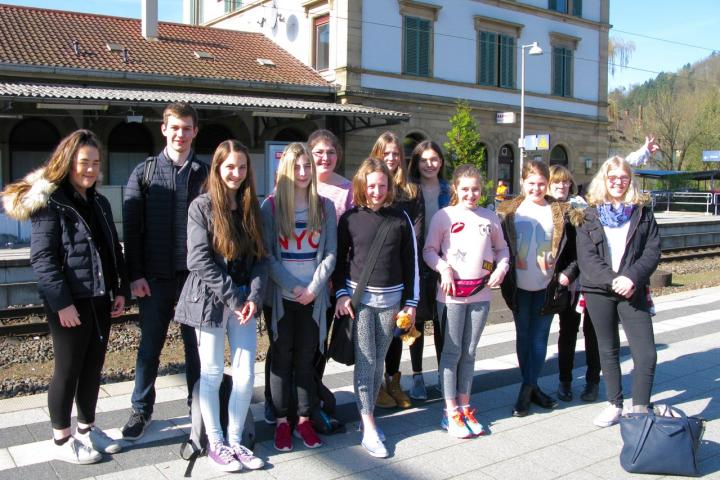 Promotional Feature
Alderley Edge School for Girls made the visit to Germany after being successful in gaining Erasmus+ funding for a 3 year project.
This visit to Realschule Eberbach was the culmination of a collaboration between the two schools' music departments which also saw the German school's choir visit AESG in 2016. During this time teachers have shared their different methods for choir activities in school, worked together on the music of the Beatles and expanded the repertoire of each choir. Each visit culminated in a joint concert performing individual and collaborative pieces. The project has helped pupils improve their singing and language skills and all gained confidence from the experience. It is hoped that this collaboration will continue well beyond the end of the project.
Erasmus+ is the European Union's (EU) programme for education, training, youth and sport, with the EU committing £12 billion to the programme between 2014 and 2020. In the UK, the programme is managed by the Erasmus+ UK National Agency, a partnership between the British Council and Ecorys UK.
The project is funded under Key Action 2 of the programme which focuses on sharing, developing and transferring innovative practices in education, training and youth provision between participating countries. It aims to increase the positive impact of European activities at all levels to ensure benefits for the individuals, organisations and countries involved in projects.
Project co-ordinator and Teacher of German at Alderley Edge School for Girls, Ann Bush said: "We are delighted to have been part of this major Erasmus+ project. Not only has this been beneficial for Music in our school but also for IT, Literature, Food Technology and Languages. Over 200 pupils and staff have been involved in and reaped the benefits of this project during the last three years."