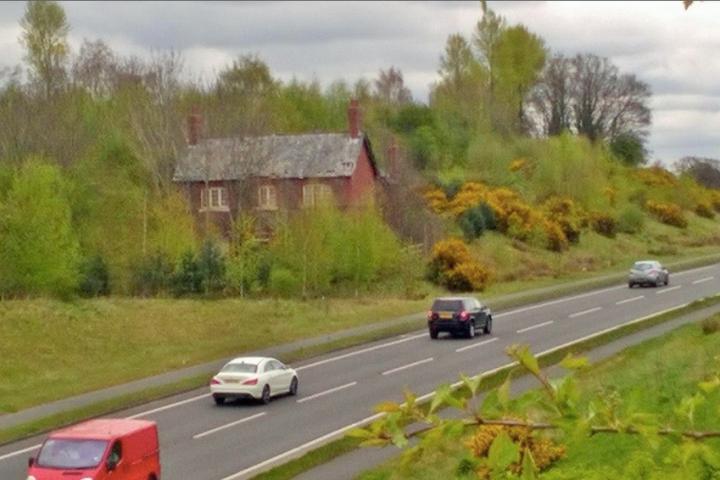 As reported on alderleyedge.com last month Cheshire East Council is looking to build some affordable housing on a Council-owned site in Alderley Edge.
The Council declined to reveal the exact location of the site but we have been informed that the Green Belt site is Hole Farm (pictured above).
Engine of the North, a Cheshire East owned company which is responsible for bringing the council's strategic land assets to the market, is proposing to build 10 semis and two bungalows at the site of the derelict building, all of which would be affordable homes.
Speaking about the proposals Councillor Craig Browne said "I have been assured that the dwellings will be reserved for local people and will be available at approximately a 50% discount on the open market valuation.
"Currently, many young people who grow up in our village have to leave once they become adults, because there are simply no affordable starter homes available for them and for this reason, I am supportive of the proposals, in principle."
He added "We (Alderley Edge Parish Council) are in support of this in principle, it is in the Green Belt but it is effectively a brownfield site, previously developed land, and providing affordable housing."
Last month local residents were sent a Housing Needs Survey to complete by Cheshire East as they were seeking more detail about the current and future affordable housing needs within Alderley Edge Parish.
A Cheshire East Council spokesman said: "Cheshire East Council needs to build 36,000 homes to meet its aspirations within the emerging local plan.
"There is a real need for new homes on a national scale, including starter homes and affordable homes, and Cheshire East is faced with the challenge of identifying sites where affordable homes can be built.
"A housing needs survey has been carried out in Alderley Edge because the council wishes to develop a 'rural exceptions' site and planning policy dictates that a housing needs survey is required to support any development of affordable homes in the green belt.
"The survey received 736 responses – 30 per cent of the number eligible to respond.
"High property prices in Alderley Edge prevent many people, including young local people, from getting on the housing ladder in an area where they would prefer to live or near to a school or where they work.
"Currently, the council is examining site options and, as planning permission has yet to be sought, it would not be appropriate to confirm what sites are being considered."