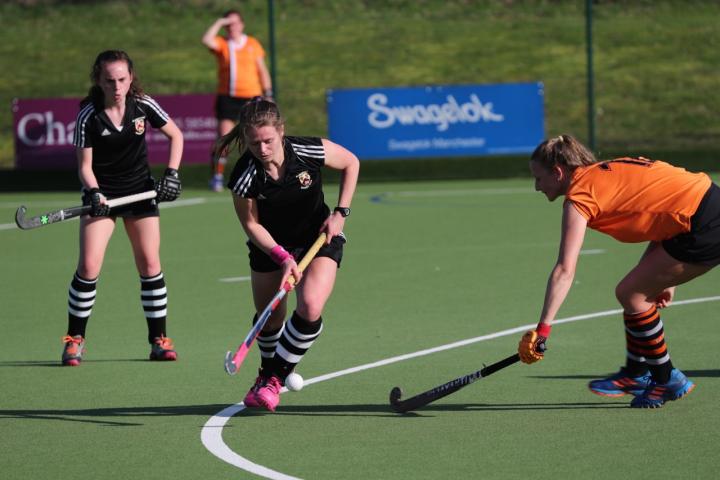 AEHC will see its Mens and Ladies 1st XIs playing in their respective North Premier Leagues for the first time in the Club's history next season after the Ladies won promotion on Saturday.
They had secured second place in North league division 1 the previous weekend and their promotion hopes then rested on Belper losing or drawing against Liverpool Sefton in the Premier League. Sadly for Belper, their 2-1 loss was Edge's gain as it sealed Belper's relegation and Edge's promotion into a league which will see them face some of the very best teams north of the Midlands.
"Getting promotion into North Premier League for our Ladies 1st team is a fantastic achievement and built on many years development of our own talent by our brilliant team of coaches and volunteers," commented Club President Graham Bryant. Special thanks must go to coach John Bell and Manager Andy Park.
Bubbles were definitely the order of the day for the team on 'Super Saturday' as they also beat local rivals Wilmslow 1s in the semi final of the Cheshire Cup. The black attack proved too strong for Wilmslow with Edge finding the back of the net four times courtesy of Ellie Ward (2), Amanda Bennison and Lexi Archer. They face Brooklands Poynton in the final on 8 April.
The Club's commitment to developing its own 'future stars' was in evidence over the weekend when the sun also shone on the U11 girls. Ably coached by Ladies 1s stalwart Louise Barber, the girls had a fantastic Sunday, pulling out all the stops in the final games of the season to win the Greater Manchester Junior Hockey League.
The younger counterparts, the U10s finished runners up in the In2hockey Cheshire tournament the previous weekend, losing out to Timperley on penalty flicks.
The U14 boys faced tough opposition in the EH North Finals – they posted credible draws against Beeston and Deeside but lost out to eventual winners Harrogate who now head to the National Finals.
Match report by Sue Polley.
Tags: