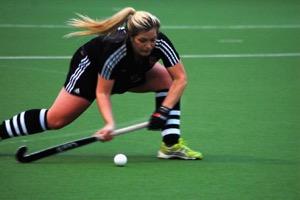 The Ladies 1st XI were in both league and cup action this weekend – they won both fixtures but not without providing themselves and their spectators some heart stopping moments.
On Saturday, they posted a 2-1 win over Chester 1s in the North Premier league to retain second place behind Leeds 1s. Chester had the better of Edge in the 1st half and went into the half-time break 1-0 up, but two razor-sharp strikes from short corners from Sarah Hopkin in the second half earned Edge the win. They take on Bowdon 2s next week in what will be a hard-found game as their local rivals currently sit just one place and two points behind them in the league.
The Ladies turned out at the Edge again on Sunday, in a biting cold wind, to continue their defence of the Investec Ladies Trophy. Their opponents in this knockout round were Newcastle Ladies and the visitors certainly made Edge work hard. The home team were at serious risk of being knocked out until the dying seconds of the match when they equalised from a short corner. The game then went to penalties where Edge held their nerve, eventually winning 4-3 and now proceed to the Quarter Finals.
The 2s were back to their winning ways after a couple of draws in recent weeks, convincingly beating Warrington 1s 6-0. Claire Davidson opened the scoring after six minutes with a straight strike from a penalty corner and Victoria Newton added another one a minute later, finishing a lovely run by Nicola Hall. Edge were 4-0 up at half time up with additional goals from Liv Moores and team debutante Lois McTiffin, the pair also adding another goal apiece in the second half.
In the same league, the 3s went down 4-1 away to Triton 1s who are challenging for promotion with Alderley 2s and Oxton – these two teams face off against each other at the Edge next week in a match that could well have a significant impact on the final league placings at the end of the season.
The 4s beat Bowdon 5s 4-1 in Cheshire league division 3, the 5s enjoyed a 3-1 win over Wrexham 2s in division 4, the 6s beat Runcorn 5-1 in division 5 and the 7s beat Wilmslow 4s 2-1. Good work all round!
The Mens 1st XI's blip in form unfortunately continued this weekend with two losses against an in-form Wakefield on Saturday and Timperley 2s on Sunday.
However, there was much better news from the Men's 2s. They beat Chapletown 1st 3-1 in North-West league division 1, earning a valuable 3 points that will hopefully keep them out of the relegation zone.
The 3s run of excellent form continues in division 3. Their 5th win on the bounce, this time a 7-3 victory over Neston 3s, sees them two points clear at the top of the table. In division 4, the 4s ran out 4-3 winners over Winnington Park 2s.
Sadly the 5s, 6s and 7s all lost their weekend fixtures.
Next weekend sees AEHC's U14, 16 and 18 teams in action on Sunday as they continue to press for Regional Finals places – with the experience many of these players are getting playing league hockey on Saturdays, their prospects certainly look good!
Photo: Sarah Hopkin.
Match report by Sue Polley.
Tags: