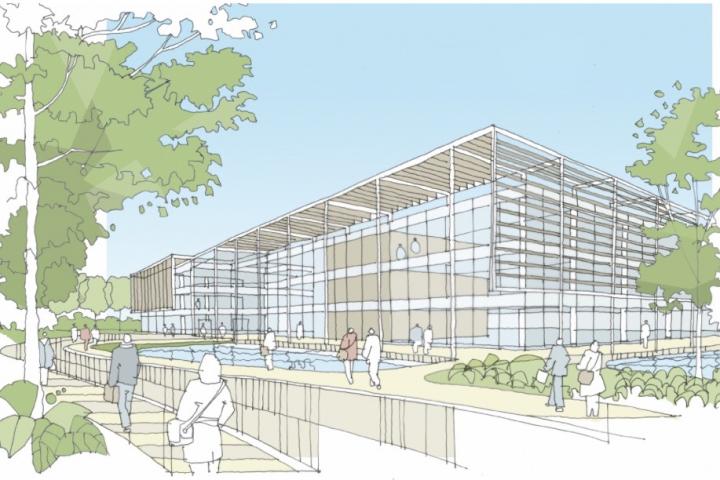 Plans to enable Wilmslow's largest employer to build a new headquarters on the edge of the town will be decided by the Strategic Planning Committee next week.
Royal London has applied to build a new office development on a site to the east of their existing campus which is located within the Cheshire Green Belt.
The scheme includes additional car parking, better access for vehicles, the creation of new pedestrian and cycle routes to the site off Alderley Road and improved landscaping.
The site is partially developed however the majority of the site is undeveloped and the whole site is within the Green Belt where there is a presumption against inappropriate development.
A report prepared for the Strategic Planning Committee meeting on Wednesday, 13th July, says that it is established that the proposals represent inappropriate development within the Green Belt, and should only be approved if very special circumstances exist to justify the departure from Green Belt policy.
The applicant has put forward what it considers to be very special circumstances, which include providing Royal London with a replacement office headquarters to ensure the retention of 960 jobs in Wilmslow and securing the provision of an additional 500 to 600 jobs.
Royal London say the development would provide significant economic benefits through the provision of employment during the construction phase and the knock on benefits for local businesses.
They also point out that the proposal will result in the widening of Alderley Road in a southerly direction, approaching the roundabout on the A34, which will remove an existing highways issue, as well as mitigating against the impact of the development, and pedestrian and cycle routes will be provided through the site.
The planning officer's reports states that the adverse impact of the development would be the loss of mature protected trees along Alderley Road but this could be mitigated to some degree through the imposition of planning conditions.
The Strategic Planning Committee are therefore recommended to approve this planning application (reference 16/2314M ), subject to referral to the Secretary of State, because the "adverse effects of the scheme are significantly and demonstrably outweighed by the benefits and mitigation against these adverse impacts can be achieved through submission of further information as part of the conditions or as part of the reserved matters application".
Royal London's new contmeporary office building would have an internal floor area of up to 17,000m2 and would be positioned in the south eastern corner on the main approach into the site to give it greatest prominence from the west coast main railway line and to make it visible when entering the site.