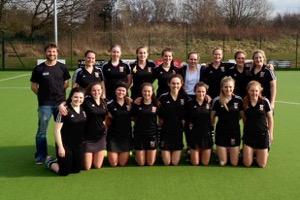 It's all about the girls as AEHC Ladies 1s lead the way in a tense penalty shoot out to secure their place in the Investec Womens Knock Out Finals in London...
The Ladies 1s took on Bishop's Stortford Ladies 1s in the semi-final of the EHB trophy at the Edge on Sunday.
With a finals place at the Olympic Park at stake it was always going to be a tense affair with the Cheshire and Hertforshire teams having little knowledge of each other.
Edge started well and quickly started to dominate possession but found a very strong and resolute Stortford in front of them. As they struggled to convert possession into goals the home side became frustrated and their usual passing and moving game suffered a little. Stortford took confidence from this and although Edge continued to dominate possession, Stortford came increasingly into the game and were awarded a penalty flick when an Edge defender was struck on the line.
The flick was duly dispatched and Stortford were ahead with 30 minutes to go.
Edge pressed harder and equalised 10 mins later with a deflected short corner from Amanda Bennison. They pressed for the winner but to no avail and the game finished 1:1 and had to be decided on penalty flicks – a situation neither team relished with so much to play for. Thankfully Edge came out on top with GK Harriet Whittaker the hero, saving two flicks whilst Hopkin, Batemen, Bennsion and Swatland scored for Edge.
Having reached the final of the EHB Vase 5 years ago, this result demonstrates the progress of the club in that it has now reached the final of the higher ranked EHB Senior Knockout Competitions and will duly head down to the Olympic Park on 30 April for the final.
The Ladies 5s finished their season this weekend after playing a couple of re-arranged league matches. They hosted newly-promoted Whitchurch who had beaten them 12-0 earlier in the season. The Ladies did themselves proud and were 3-2 up at one point but unfortunately lost 5-3 in the end - defender Emma Coghlan really stepping up to the plate covering in goal and making some cracking saves.
AEHC beavers ended the season in fine style with a 6-3 away victory at Deeside. The young team played some of their best hockey of the season and were 4-0 up at half time. Deeside re-grouped during the break and pegged Edge back to 4-3 with Finlay Blake making a wonder save to keep the game alive. Edge's goals came from Morris Green and a hat trick from Archie Benton.
Another crop of Edge's talented youngsters were in action in the Cheshire Girls U10 and U12 In2Hockey rounds at Chester HC on Sunday. The U12 A team finished a very credible third, winning their group but losing to Newton in their semi-final. The B team didn't make semi - they had a tough 0-0 group opener against Macclesfield, lost 0-1 to Chester but then played brilliantly to beat Bowdon 1-0. The C team comprised U11 girls playing up a year and they played their socks off to finish 5th. U10 A team had a great run, winning all their group matches but losing to strong Neston side in the semi-final. Sadly, AEHC U10 B team missed the semis by a point after losing to their own A team. The C team got stronger as the tournament went on and finished with a 4-1 win over Lymm.
Match report by Sue Polley.
Tags: