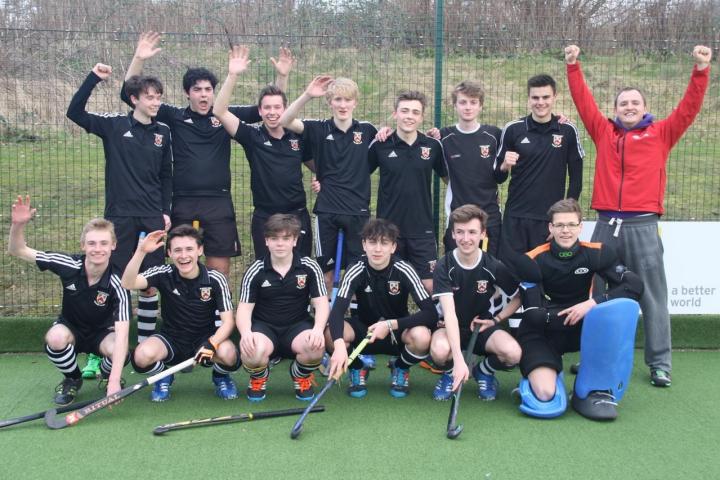 Alderley Edge Hockey Club (AEHC) showed its depth of talent this weekend fielding teams in 33 cup and league matches and was rewarded with some record breaking results...
The Mens 1s ran out 2-1 winners at home against Formby in the North Premier League in what was always going to be tightly-fought affair with Formby currently sitting two places above Edge in the table.
The Men's 2s beat local rivals Wilmslow 1s 2-1 on Saturday and remain on course for the club's first North Hockey Men's League title since the clubs 1st team won the same division 17 seasons ago. Nick Sims and Joe Coxon scored penalty corner and field goals respectively to give Edge a 2-0 lead after just five minutes. The game then became a tactical battle with Alderley missing a number of chances, as well as a having a goal disallowed. However, at the other end, the defence was in great form and restricted Wilmslow's goal attempts to a handful of short corners. Wilmslow scored from one of these mid way through the second half and pulled the score back to 2-1. AEHC man of the match, defender Chris Cook, then stepped up for the key moment of the game. At another Wilmslow corner, the ball was heading for the top corner of the goal until Cook produced a trademark head height stop to deflect the ball and secure victory. Alderley now need just one win from their final two matches to secure the title.
The Mens 3s are officially now winners of North West League division 4 but were frustrated to drop two points on Saturday in their 4-4 draw against Wilmslow 2s. In the same league, the Mens 4s went down 2-5 to Mossley Hill 1s.
The Men's 5's travelled to Mossley Hill and came away with a well deserved 2-0 win against Mossley's 2nd XI in North West division 5. Edge controlled the game with lots of activity in the opposition D but a lack of composure saw shots going off target and a frustrated Edge were 0-0 at half time. More of the same followed in the second half until nerves were eased with a well taken goal from Adam Allmand-Smith. Skipper Will Hughes doubled Edge's lead shortly after following an outstanding run into the D and pull back from Max Ridings. Promotion is still in a realistic goal for the 5s but they'll need two wins and a draw from their final three home games - albeit with one of those against the runaway leaders Stockport Bramhall.
It was celebrations all-round for the Ladies 1s as their 2-1 win over Crewe Vagrants means they now cannot be beaten in North League division 2 – a fantastic and well deserved achievement for the team which has only lost one league game all season. The game was no walk in the park though. The girls began swiftly with Anna Perry deflecting an early short corner, however Annie Hebb then suffered a dislocated shoulder which not only ended her game but also gave Crewe momentum as Edge's usual crisp and accurate passing went AWOL. Crewe drew level with just five minutes to go which appeared to give Edge the wake up call they needed to pass and move like they can. Vicki Bateman calmly passed the ball past the Crewe keeper in the final minutes to secure the 2:1 win. Champions for the second time in three seasons!
The Ladies 2s played out a very creditable draw on Saturday with runaway league leaders Sale 1s in Cheshire League division 1. They were then in action again on Sunday in a home tie against Nuneaton in the quarter finals of the EHB second XI plate competition. The squad comprised a number of different faces from Saturday's game with several regular players taking part in EHB club U16 North cluster finals and U18 EHB plate. Nevertheless, the Ladies defeated their visitors 3 -0 to earn themselves a semi-finals place courtesy of goals from 2s debutante Caitlin Polley, Jude Offer and Julia Tennant.
The Ladies 3s are now three points clear at the top of Cheshire League division 2 following their 2 - 1 win away to Golborne 1s. However, they still need to win their final two games of the season to be sure of promotion. The game went down to the wire with the score sat at 1-1 until Edge earned themselves a short corner as the final whistle blew. This was then convincingly struck by Ellie Ward and went in off the post to seal Edge's 2 – 1 victory.
The Ladies 4s were desperately unlucky to lose 4-3 to Wilmslow 3s in a hotly contested match in Cheshire League division 3 but there was better news for the 5s in division 4 - they battled to a 3-0 win against Lymm 4s with some cracking spells of hockey. The 6s were also in fine form, beating Bowden 6s 5-0 in a division 5 mid-table contest.
AEHC also showed the depth of future talent in the club with some great results from its Junior and age group teams over the weekend.
The U18 boys reached the semi finals of their EHB plate with a nail biting win on penalty flicks against Telford & Wrekin. The game ended 2-2 but then two excellent saves in the penalty shoot out from keeper Harry Booton saw the boys through.
Not to be outdone, the U18 girls enjoyed a convincing 7-1 win over Lichfield to also reach the semi-final stages of their EHB plate – two U18 teams in the semi-finals of a National competition, not bad for a village team!
The U16 girls did a great job in the North cluster of the EHB U16 Championship hosted by AEHC at Kings Macc. The girls ultimately finished second in the group on goal difference so miss going to National Finals by the narrowest of margins. They began the day with a 0-0 draw with eventual group winners Cannock before beating both other opponents 2:1. They did the club proud playing some excellent hockey in a very sporting manner.
Sadly the U16 boys also missed out on a place at National Finals in their cluster finals. In what was a tough group, they lost 0-1 to hosts and eventual winners Neston after being reduced to 10 men, 0-2 to Beeston but won 1-0 against Thirsk.
In the U14 Boys Development League a great squad of boys played a really confident and well positioned game against Bebington. A couple of early goals gave Edge the confidence to keep pushing and take control of the first half, breaking at 5-2. However, a well-organised Bebington squad took stock at half time and came back very strongly pulling back a couple of goals. However, thanks to strong positional play, great team work and quick passes, Edge scored two more leaving the final score at 8-6.
In the U14 Girls Development League, AEHC's girls clearly had their goal scoring heads on, thrashing Triton 13-4.
Lower down the age groups, Alderley Edge Beavers took on Bowdon Beavers. Bowdon eventually won 3-1. Paddy Wright scored for Edge while his team mates were unlucky to hit the post three times.
Although AEHC and Wilmslow have had many a heated tussle on the pitch over the years, President of AEHC, Graham Bryant, showed that off the pitch all such rivalries are put aside. He presented a commemorative plaque to Jim Barrow, past President Wilmslow Hockey Club, at the clubhouse on Saturday in recognition of the recent honour bestowed on him - the British Empire Medal. In a short speech Graham paid tribute to Jim's fantastic example of volunteering to hockey over many years which has been of great benefit both to Wilmslow Hockey Club and the region.
Photo: U18 boys.
Report by Sue Polley.
Tags: