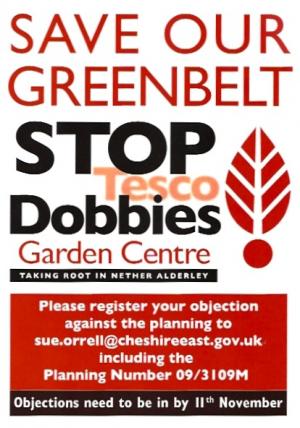 The closing date for comments on the planning application for Dobbies in Nether Alderley is 11th November. The team leading the objections have entered a final phase of campaigning.
Window posters are available from Fruitcake, The Alderley Cheese Wedge and Threshers in Alderley Edge. Please pick up a small poster and display it this week in your window. Car Stickers are also available in limited supply. A leaflet drop is taking place over Wednesday, Thursday and Friday in Alderley and Wilmslow. It would help us monitor the success of this drop if you could let us know with a comment on this site when you recieve your leaflet. We just need to know which roads or streets have received their delivery.
Please take the time to submit an objection. If you haven't already done so you can download a template letter which might make it easier. Email your individual letters to: [email protected]. Make sure you email letters separately from every member of the household (changing name in heading and name at end of letter).
It is extremely important to quote 'Application No. 09/3109M' as the 'subject' title on any email and a brief explanation that an objection letter is attached as a 'word' file. Last day for sending out is 11th November. Please email friends neighbours etc with this information to register by email their objections too. Or alternatively get them to individually write in to address shown on the attached letter. In this case, because of the postal strike, I am told they will take into consideration letters received before the Planning Strategic Planning Board meeting earmarked for 2nd December.
Thanks for all the support.