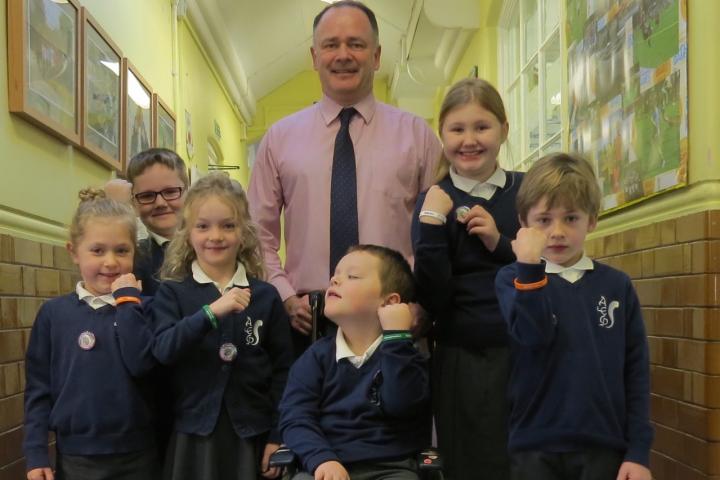 Alderley Edge Community Primary School are amongst those trying help the Bailey family to raise £35,000 to enable them to take Max to America for life-changing therapy.
Eight-year-old Max Bailey, who attends Alderley Edge Community Primary School along with his six-year-old sister Tilda, was born with a tiny bit of one of his chromosomes missing which has huge implications for him and most recently one of the conditions, scoliosis (curved spine), has progressed so quickly that he now requires immediate surgery.
His family have just completed 30 days of fundraising and so far they have reached an amazing £24.500.
As part of the fundraising efforts a team of local dads took over the running of the Village Cafe on Wednesday, 13th January, where they served breakfast in return for a £10 donation. The Village Cafe provided everything for free which helped boost the fund by approximately £3,000.
To ensure the cafe was full and parents and children did not need to rush out for the start of the school day, Headteacher Mr Perry gave any families who attended the breakfast a special dispensation to arrive at school late that morning.
Mr Perry said, "It was the least we could do to support Max and his family. All our children are very special but Max is an inspiration to us all. Despite the physical difficulties Max faces he is always so happy and keen to do everything the rest of the children are doing. The children in school are all so keen to support this fundraising effort – they are all wearing their badges and wrist bands which come in a variety of colours. The children can collect all the colours and all they need to do is buy more bands by visiting Aldeli American Diner, Mr Simms Sweet Shop or The Yard where they are on sale."
Mr Perry went on to say, "The Bailey family all fly out to America on Saturday, 16th January, and we wish them, and especially Max, the very best for the journey and the treatment. We are looking forward to seeing Max back in school on his return. Hopefully, Max's mum will be able to send photos from America during their visit and these will be posted on the school website."
You can support Max by making a donation, or simply by following his journey on his Blog or through Facebook, Twitter and YouTube and spreading the message about his cause.