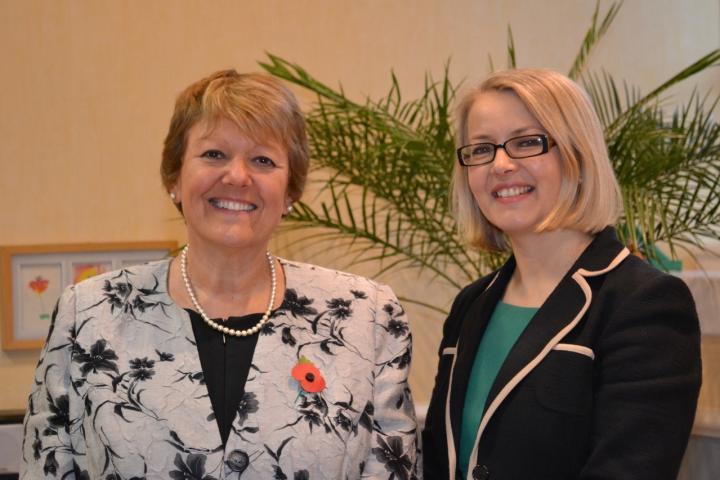 Promotional Feature
A former Wilmslow resident has been appointed as the new Headmistress of Withington Girls' School in Manchester. The school's current Deputy Head, Mrs Sarah Haslam – who was educated in Wilmslow – will take over her new role as the eleventh Headmistress of WGS next September.
Mrs Haslam will succeed Mrs Sue Marks, also previously from Wilmslow, who is to retire at the end of the academic year after 15 years of Headship, of which the last six have been at Withington.
Mrs Haslam attended Ashdene Primary School in Wilmslow and later Harefield County High School, now Wilmslow High School, in the town. Following her undergraduate studies at The University of Lancaster and her postgraduate teaching qualification in Sheffield, Mrs Haslam began her career as a Teacher of English in 1990 at a coeducational school in Manchester and joined Withington Girls' School in 1995. In addition to her subject teaching, she has had experience in a variety of whole-school roles across all areas of school life, including Head of Years 10 and 11 and, since her appointment to the role of Deputy Head in 2007, lead responsibility for Pastoral Care and Safeguarding. She is also an Independent Schools Inspector, an Independent Schools Teacher Induction Panel lead trainer and has been a Governor of another independent school.
As a Teacher of English, Mrs Haslam has a keen interest in the Arts and also loves the outdoors, particularly hill walking and sailing. She said, "I am thrilled to have been appointed Headmistress of our wonderful school and am very much looking forward to taking up the role."
Withington's Chair of Governors Mrs Elisabeth Lee, paid tribute to Mrs Marks as 'an outstanding headmistress' saying she had built on the success of her predecessors and had taken the school to a new level. "The Governors are confident that Sarah Haslam will maintain this momentum and continue the tradition of constant improvement whilst safeguarding the unique culture and ethos of Withington Girls' School," she said.
Withington Girls' School is a leading independent selective day school for girls aged 7 to 18. As the School celebrates the 125th anniversary of its foundation, it has also recently seen the opening by HRH the Duchess of Gloucester of a new £5million state-of-the-art Junior School and Community 'Hub'. Withington produces some of the very best GCSE and A Level results in the country - but its girls also excel at a broad range of extracurricular activities, including international level sporting achievements, outstanding successes in music, drama and dance, as well as regularly winning top prizes in national subject-related competitions. WGS has been named the top school in the North West by the Sunday Times for the second year running and was recently shortlisted in the Tatler 2016 Schools Guide Best Public School category.
Attracting girls from a wide catchment area, the School offers excellent transport links for girls travelling from Wilmslow, Alderley Edge and Prestbury, with a private coach service operated by Roy McCarthy and a Shuttle Bus service also available linking the School to Manchester City Centre and the rail network.
Entrance exams for Senior and Junior School entry are held in January. Private tours of the School are available on request and can be arranged by contacting the Registrar, Mrs Louise Jefferies. 0161 224 1077 or [email protected].
Photo: (L to R) Withington Headmistress Mrs Sue Marks with current Deputy Head Mrs Sarah Haslam, who will take over the headship at WGS next September.
Tags: