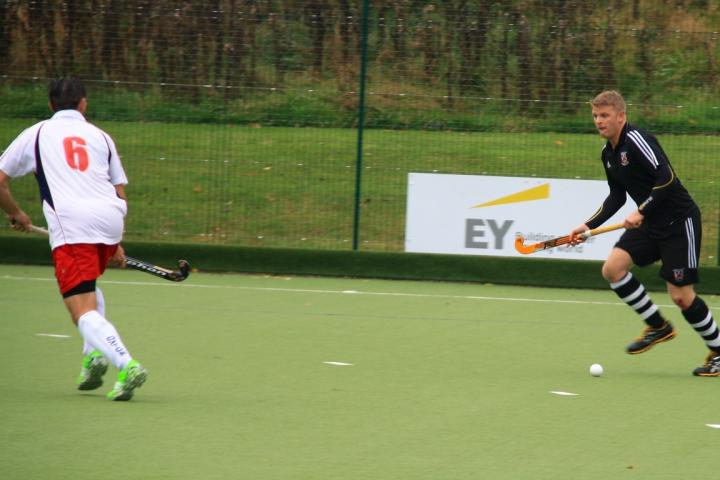 This weekend saw Alderley Edge Hockey Club involved in an incredible 20 matches plus junior coaching sessions.
The Men's 1st team made the 320 mile round road trip to Gateshead on Saturday returning tired but very happy with a 4-2 win. This victory lifts Edge to second in the North Hockey League, Premier Division. It all started unpromisingly going a goal behind after just 50 seconds. Edge quickly came to terms with the slow sandy pitch managed to get a goal back, with schoolboy Harry Whitehead scoring his first North Premier league goal. Gateshead went ahead again from a penalty corner before Andrew Taylor took advantage of a loose ball at the top of the D and placed it into the bottom left corner in off the post. Edge began to control what was a scrappy match and went ahead through James Warburton before half time. There were some tough patches in the second half but the game was sealed with a goal from Adam Wildig.
The Mens 2nd team gave a debut to new young keeper Anthony Birchall who was rarely involved in the 4-0 home win over Liverpool Sefton 1st team. An open play goal from Oli Parker saw Edge take a first half lead. A classic Chris Hardy penalty corner saw Edge go 2-0 up and two more second half strikes from Joe Coxon and 'man of the match' young Jack Smith wrapped up the points. Edge seconds are now just two points behind league leaders Wilmslow 1st team. The two sides meet next week.
The Men's thirds are still top of North West League 4 South after an exciting 3-3 draw at home to second in the league, Deeside Ramblers 4ths. After dominating the first 20 mins and going 1 nil up through a well worked Oli Wildig goal, Deeside gradually came back into the match and equalised through a smart penalty corner routine. Alderley went 2-1 up through new recruit Hashim Dadah only for Deeside to score twice through the same corner routine to go 3-2 up with only 5 minutes to go. Alderley pressed and with the very last touch of the match, Wildig got on the end of a Ghazanfar cross to ensure his team took home a hard earned point to stay top of the league.
The mens 4th slipped up, only drawing 2-2 against lowly Macclesfield 2nds but remain third in the league whilst the 5ths were team of the day winning away at Bangor HC, despite ending up with just 10 players to rise to 4th in Div 5 South. Andy Walker was the hat trick hero.
The 6ths and 7ths endured losing days against Macclesfield 3rds and Stockport Bramhall 2nds.
The Women's 1st team continued their winning run away at Timperley to remain top of the league. A 3-1 win making it seven wins from seven games, scoring 35 and conceding just 4 goals Edge didn't have it all their own way, playing below par to trail 1 - 0 at half time despite a lot of pressure and possession. Patience and great team play were rewarded after the interval with two goals from Issy Reynolds-Duffy and one from Lily Wolstenholme.
Alderley Edge Womens 2nds rise to equal third in the Cheshire Women's League Division 1 after a comfortable 3-1 win against Lymm 2nds. Spectators were still calling Elise Johnson's opening goal a 'wonder goal' long after the final whistle. Sarah Stretton added a second from a well worked penalty corner routine and Jess Clitheroe added a third as the fast paced Edge passing game proved too strong for Lymm who did manage a late consolation goal.
The Women's 3rds won 1-0 against Deeside 2nds. The team are growing in to a very solid unit with a number of young players showing what it takes to play on higher teams in the future. Edge dominated early on and Katie Haszeldine took the ball all the way up from the half way line in a determined run and scored a fine solo goal. Deeside came back in to the match gaining more possession but a resolute Edge held out with Georgie Clee awarded player of the match for both her attacking and defensive play.
The 4th team were unlucky to go down 3-2 to Buckley Ladies 1st team. The very young side are struggling to score goals at present but contesting matches well and will no doubt improve with more experience through the season.
The Women's 5th and 6th teams lost in matches against more experienced teams, Whitchurch 1st team and Warrington Ladies 2nds. Despite defeats the contingent of 'Back To Hockey' Ladies and young players continue to show great spirit.
The boys Badgers team were 8-0 winners at Neston whilst the young Beavers drew 0-0.
On Sunday Alderley took part in EHB national age group competitions. The Boys under 18's drew 4-4 with Deeside Ramblers only to go out of the Cup on penalty strokes. The girls under 18 team lost 2-1 to a strong Wakefield side, with a missed penalty stroke and first half chances proving costly.
In the under 16 EHB League Edge made it four wins out of four with a 2-0 win at Deeside and look forward to the final group match at Chester to decide group winners and a place in the North finals.
In the Girls under 14 EHB League Edge were too strong for Crewe Vagrants scoring 11 unanswered goals to top the group. The boys under 14's won 9-0 at Oxton.
Photo: Adam Wildig, scorer for mens 1st team.
Match report by Kelvin Briggs.
Tags: