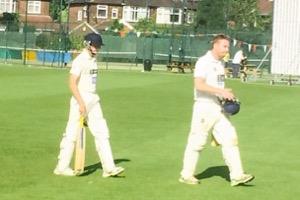 Alderley Edge's hopes of landing the Cheshire County League Premier Division title took a major knock on Saturday when they were beaten by 6 wickets by reigning champions Hyde, who gained revenge for a defeat at Alderley's hands on their own ground earlier this season.
Put into bat, Alderley found it difficult to score quickly against the skilful and experienced attack of Whittaker and Woods, and boundary opportunities were few and far between. Nevertheless, well-crafted half centuries from Alan Day and Sam Perry allowed Alderley to reach a total of 228-9 from their 55 overs, a respectable score not far below par as long as the bowlers performed.
Unfortunately, some of Alderley's attack were well below their best, and when combined with two missed golden opportunities to run out Hyde skipper Berry early in his innings, this meant Hyde were always ahead of the necessary run rate. Berry was finally out caught on the boundary for 98 as Hyde coasted home with almost 5 overs in hand, leaving Alderley 30 points off the pace and probably needing to win all of their last 5 matches to have a chance of landing the big prize.
Conversely, the 2nd XI put in one of their best performances of the season when winning against Hyde's traditionally strong 2nd team, also by 6 wickets. Fine bowling from James Bateman and Mark Warnes with 4 wickets each reduced Hyde to 138 all out, and with Alderley's two aggressive Olivers, Hall and Wildig, both hitting form, the game was over with more than 20 overs to spare.
Two successive victories have allowed the 2nd XI to open up clear daylight between themselves and the teams in the relegation zone. Next week the 2nd XI have a big day coming up on Sunday, having reached the Finals Day of the T20 tournament to be held at Warrington, where they play Bowdon in the semi-final.
There was further success for the 3rd XI on Sunday, and with their victory against Nantwich, they took a step closer to winning a second successive league title. A fine all-round bowling and fielding display limited Nantwich to 111-9 from their 40 overs, with Henry Scanlon and Katie Haszeldine both taking three wickets. An unbroken 3rd wicket partnership between Adam Condliffe (55) and James Cheetham (34) saw Alderley home with almost 12 overs in hand.
Photo: Alan Day and Sam Perry.
Match report by Rick Davis.