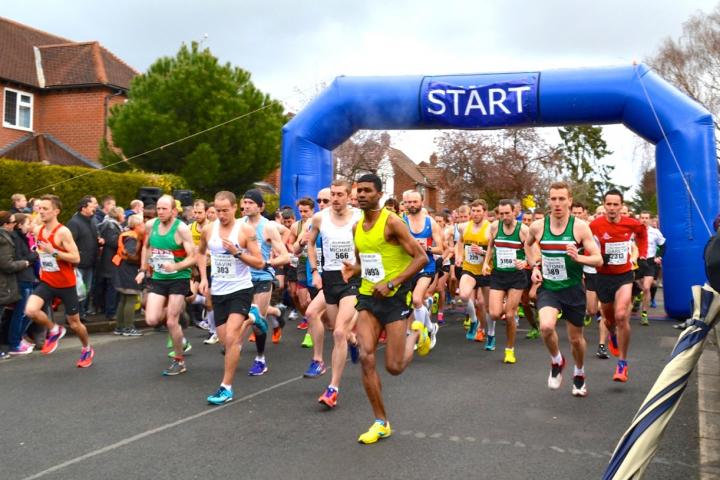 Entries are now open for the ever popular and prestigious 2015 Waters Wilmslow Half Marathon which is regularly voted one of the top road races in the UK by readers of "Runner's World" magazine.
Next year's race will take place on Sunday 22nd March and runners are strongly advised to enter as soon as possible because the race is always over subscribed.
Whilst the majority of the runners are local to the area, the cream of England's elite distance runners have raced over the leafy lanes of Wilmslow and Mobberley when the race staged "The England Half Marathon Championships" on a number of occasions in recent years.
Past winners Andy Jones, Thomas Abyu and three times lady champion Michelle-Ross Cope have used the event as a spring board to European, World or Commonwealth games championships. Other local athletes, Gareth Raven from Sale and Dave Norman from Altrincham both boast international appearances and regularly feature at the front of the field.
While elite runners compete for championship honours and cash prizes, the race itself raises in excess of £250,000 each year for charities, as runners pound the streets for their own chosen charity, many with very personal reasons.
This year the chosen lead charity for the race is the Stroke Association.
Louise Kay, Community and Events Fundraising Manager for the Stroke Association, said: "The Stroke Association is thrilled to have been chosen as the lead charity for the Waters Wilmslow Half Marathon in 2015. There are around 152,000 strokes a year in the UK – that's around one every three and a half minutes. The support through the event will go a long way in helping stroke survivors get the essential support they need to rebuild their life.
"We'd love to invite runners to join the Stroke Association's team where we'll be with you every step of the way to support with training and fundraising advice. The money raised will help the Stroke Association's work to prevent strokes and reduce their effect through campaigning, education and research. It will also help us to support people adjusting to a life after stroke in the North West; together we can conquer stroke."
The race will set off from Kings Road, close to Wilmslow Rugby Club, at 10.30am on Sunday 22nd March.
Those who want to race and compete with the best need to enter fast because traditionally all 5,200 places have been snapped up by early January.
For 2015, entries can only be made on line and by visiting the race website.
For more information about running the Waters Wilmslow Half Marathon for the Stroke Association in 2015 visit their website, contact the events team on 0161 742 7484 or email [email protected].
Tags: