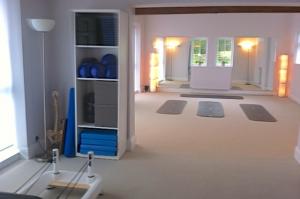 Promotional Feature
Alderley Pilates is marking its 12th birthday with a complete refurbishment of its Nether Alderley studio and a new look. "Our aim is to create a sense of space and light and calm" said Studio Director Janet Bowen.
The studio is a specialist Pilates studio offering graded group classes and discrete private lessons, both in the studio or at clients homes, as well as specialist workshops and is also used as a training centre by Body Control Pilates, the leading Pilates training organisation in the UK.
"Pilates can be used to help you stretch and tone, or you can work more strongly to build strength and stamina" says Jan. "The deep postural muscles we target retain tone well and can help to give shape and tone to your body. It can also be used as part of sports cross training for many sports and is also effective for elite professional athletes. Pilates is effective at so many levels and can often help with back, neck and shoulder problems too. Pilates works for clients from teens up to eighties.
"I am always happy to offer posture checks and advice. Having recently completed specialist training I am also able to help with the special exercises needs for clients recovering from breast cancer treatments. Several of our teachers are also trained in teaching Pilates for clients during and after pregnancy."
The new block of classes start from Monday 8th September and there are day, evening and Saturday beginners classes including one's that are ideal for after school drop off. There is a diverse range of classes including fast paced Cardio Pilates or try Pilates dance with our trained dancer Kate.
If you would like to try a free sample lesson then there is a programme of classes and workshops on Saturday 6th September suitable for anyone who has done Pilates before. If you are new to Pilates there are free Introductory Workshops on Saturday 13th or try a beginners class next week.
"We also welcome the chance to support local schools and charities" says fellow Director Peter Bowen. "Last Autumn we launched our 5000 lesson giveaway and were delighted to help over 20 schools, PTAs and charities with events like Christmas fairs. The next set of vouchers is available now so just contact the studio and tell us about your event."
The studio has been happy to support alderleyedge.com and wilmslow.co.uk since their inception and you can click through our advert into our current website. A new interactive website is underway and will be launched shortly.
Do come and see our beautiful new studio.
tel 01625 860475, email [email protected], website www.alderleypilates.co.uk.
Click here to download the new Alderley Pilates studio timetable.
Tags: