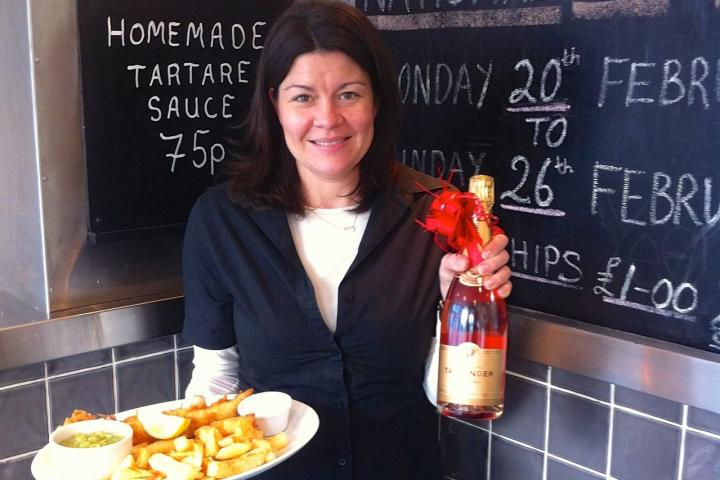 Following initial judging, our local chippy has been shortlisted in the "Oscars" of the fish and chips industry.
Fosters Fish and Chips on Chorley Hall Lane has made the final three for our region in the Independent Chip Shop of the Year Award, which is part of the 2015 National Fish & Chip Awards.
Fosters is amongst 60 to be selected across the UK and will now compete against Fylde Fish Bar in Southport and Papa's Fish & Chips in Warrington to be crowned the Merseyside, Greater Manchester and Cheshire regional winner.
Kath Foster, who runs the business with her husband Gaz, said "We are delighted to have reached the final three! It's a real compliment to the staff, especially Fran the manager, for keeping up standards of customer service and quality of food whilst we've been opening Bramhall. And thanks to all our lovely customers for their continued support."
Gaz Foster opened the Alderley Edge shop nineteen years ago when he was just twenty-three. Four years ago the business expanded to open a second chip shop in Didsbury and earlier this year Kath and Gaz opened their third branch in Bramhall.
Now in their 27th year, the National Fish & Chip Awards, organised by Seafish, continue to recognise and reward businesses producing the best fish and chips across the UK. To reach this stage of the competition each shop has been assessed by industry experts and received a visit from a mystery judge.
Seafish appointed judges will now visit the Top 60 shops to undertake a further mystery shop followed by an in-depth assessment covering shop appearance, raw materials, storage facilities, preparation areas, equipment and utensils, staff training, staff presentation and customer service, practices and techniques, packaging, marketing activity, sustainability policies and the quality of the fish and chips.
In October the ten regional winners will be announced and invited on a study trip to Norway, a world leader in sustainable fisheries management. The grand final will then take place at The Lancaster London Hotel in January 2015.
Tags: