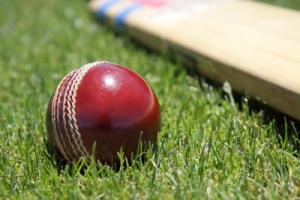 Alderley Edge made the long trip to the Wirral on Saturday in the Cheshire Premier League to face improving Oxton amid yet another downpour. In a match that finished at 8.30 at night, a return of only 6 points for Alderley was a big disappointment when an abandoned game counts as 7 points.
The match was reduced to a 35 overs-a-side game with a 3.15 start and Oxton made an above par 171 for 6 with the seventh wicket putting on a vital 27 runs in 17 balls after another rain break.
Simon O'Brien was again the pick of the Alderley bowlers with a 2 for 60 return off 14 overs. Alderley were generally up with rate when they batted but had lost a crucial 4 overs batting from their allocation due to the earlier rain interruption after the game had started.
Calum Rowe scored 38, Adam Worrall 32 and Charlie Reid 48 not out for Edge, but no less than three silly run outs cost the visitors the game with the final wicket falling in the last over to another suicidal run out leaving Edge 11 runs short of victory.
Credit should go to Alderley for going for a victory right to the end when many other teams would have settled for a draw. With six games left in the season Edge will look for an improved result against visitors Neston at home next Saturday.
In a game shortened by rain, Alderley Edge 2nd XI slipped further into relegation danger when being defeated by Macclesfield on Saturday. Despite opening bowlers Fesmer and Bateman reducing the visitors to 10 for 2, Bones took full advantage of some loose bowling to score an aggressive century which allowed Macclesfield to achieve a score of 215-4 declared from 39 overs. Alderley's innings was soon in difficulty and the total quickly became a forlorn hope as wickets fell regularly, the only significant contributors being Leonard (36) and Fesmer (28) as Alderley were all out for 142, gaining just 3 points from the match.
On Sunday, league leaders Alderley Edge 3rd XI hosted title rivals Trafford Metrovicks in a top of the table clash. After choosing to bat, the home team soon found themselves in trouble, before a sensational innings of 143 from 67 balls by James Scott, with able support from Henry Scanlon and Ollie Jones, guided Alderley to 220 all out.
Left with 46 overs to chase their target, the Metrovicks reply started solidly, and it wasn't until the introduction of 13 year old debutant Nathan Pugh into the attack that Alderley started to make inroads. Metrovicks need to win the game ensured that they continued to press and it was only the reintroduction of that man Scott to dismiss Barhate, that derailed their push for victory. Their innings closing at 186-7, with Essue carrying his bat for an admirable 87.
The draw left Alderley 50 points clear in the league table with four matches remaining, starting with Bramhall's visit to Moss Lane next Sunday.
Match report by Kate Branagan.