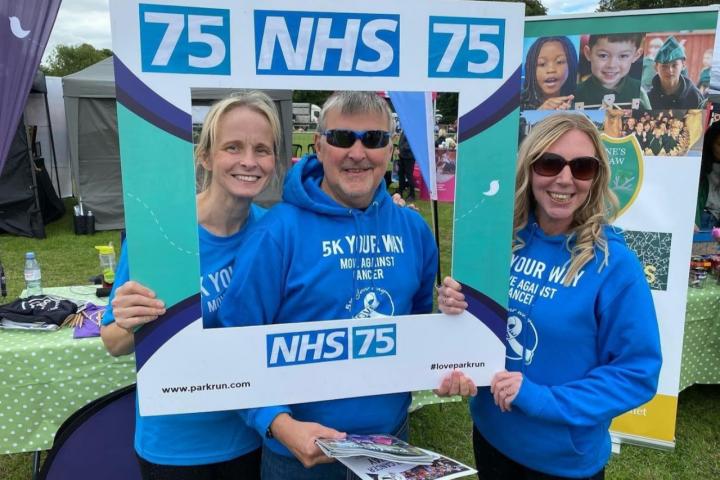 Wilmslow parkrun will mark the NHS's 75th birthday with a celebration event at The Carrs on Saturday, 8th July followed by a similar event organised by Wilmslow junior parkrun the next day.
Wilmslow parkrun will be one of hundreds of 'parkruns' around the UK to host a special NHS 75th birthday celebration event on Saturday, 8th July.
The initiative, known as 'parkrun for the NHS,' recognises the contribution of the NHS to the health of the nation and aims to inspire people to lead healthy, active lifestyles. It was launched with a fanfare last month, and has the backing of health leaders, sports stars and other celebrities, including tennis legend, Sir Andy Murray and Olympic Gold medal winning athlete, Dame Kelly Holmes.
On 8th July, Wilmslow parkrun will be encouraging participants to wear blue or fancy dress, having a special picnic, give a big cheer to the NHS and have a board for people to leave messages to the NHS.
Dame Kelly Holmes, a regular parkrunner who worked as a nursing assistant before going into the British Army and later becoming a full-time athlete, said: "It is fantastic to see that parkrun and junior parkrun events are joining forces with the NHS across the UK to celebrate its 75th anniversary. 'parkrun for the NHS' is a great opportunity for people to come together to improve their own health and wellbeing, through activity and social connection, as well as to thank the incredible NHS staff and volunteers across the country. I'd encourage everyone to head down to their local parkrun or junior parkrun event on 8 and 9 July and make this a wonderful 75th celebration to remember!"
Wilmslow parkrun is a free physical activity event that takes place every Saturday morning at 9am in The Carrs. It is open to all ages and abilities and is coordinated entirely by local volunteers.
Wilmslow junior parkrun is a free event for 4 to 14 year olds that takes place every Sunday morning at 9 am. Children, and their parents or carers, can walk, jog, run, skip and hop round the course.
Both events start at 9am.