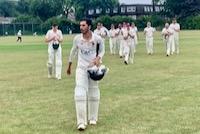 A sublime hundred from Alderley Edge's Subhaan Mahmood proved the difference between the two teams as Alderley's First XI claimed a 5-wicket victory in sweltering conditions at Brooklands on Saturday afternoon with the path to victory anything but smooth.
Winning the toss, the hosts elected to bat first in the Cheshire County Premier League Fixture but were soon reduced to 23-2 with Richard Wilkinson striking twice early in the innings. A 101-ball 63 from number 3 Alex Edwards held the home sides' innings together and along with Todd Walker pulled Brooklands up to 85-2 before Walker was well taken at slip by Ben Kohler-Cadmore off Charlie Barnard for 31.
Barnard continued to take wickets to peg back the home side claiming 4-60 from 16 overs but a battling 27 from number 7 AJ Hart pushed Brooklands up to 194 before 2 quick wickets for Charlie Reid curtailed the innings on 194, Richard Wilkinson ending up with 3-49 from 14 overs.
In reply things started badly for Alderley who slipped to 16-3 in the face of some indifferent bounce from the pitch early in the second innings. Emerging from the initial carnage Subhaan Mahmood and Charlie Barnard added 138 for the fourth wicket as the pair withstood the early pressure situation before counter-attacking against a demoralised bowling unit being made to toil hard in the heat.
Barnard's vigil eventually ended after 102 balls for 63, but Mahmood was not finished and displaying a huge amount of skill and endurance he carried the side to the brink of victory, hitting the remaining two runs required to seal the win for Alderley and secure a magnificent, battling hundred for himself in the process.
On Sunday Alderley were eliminated from the Cheshire Cup after falling to a 38-run loss to Division 1 side Oulton Park on another hot afternoon at Moss Lane. Winning the toss and electing to bat first the visitors soon saw their skipper Martin East depart with the score on 1 as Jimmy Naylor struck immediately for Alderley.
Former Cheshire opener Danny Leech played fluently in hitting 43 from 49 balls as the visitors began to build a solid platform which Pat Roberts capitalised on hitting 38 from the middle order to take Oulton Park on to 168-4. An unbeaten 73 from number 5 Andrew Metcalfe allowed the visitors to continue scoring fluently through the innings and despite Oli Kenyon's 3-63, Alderley's bowlers in the main found it difficult to apply any sustained periods of pressure as the visitors reached 224-7 from their 40 overs.
In a similar situation to Saturday Alderley's first three wickets were again removed with little impact on the scoreboard with Barnard and Mahmood being re-united on 11-3 with visiting overseas bowler Max Butler taking all three wickets to fall. There was to be no rescue act second time around though as Barnard was removed for 27 and when Mahmood fell for 40 to leave Alderley 101-6 Oulton Park were sensing their chance of victory.
Number 11 Andrew Windle added an entertaining 39 not out from just 27 balls, putting on a 50 partnership for the 10th wicket with Henry Stevinson as the pair provided some late evening entertainment for the large Moss Lane crowd, but with the required rate climbing above 12 an over when the pair came together in the 34th over the target ultimately proved out of range and the hosts fell short despite batting out their full 40 overs in reply.
On Saturday Alderley's Second XI suffered a ten-wicket defeat at Moss Lane on Saturday to Stockport Georgians who chose to bowl first after winning the toss. Alderley started brightly in reaching 105-2 off the back of 41 from opener Alan Day and 59 from number 3 Henry Stevinson.
However, a devastating spell of 5-35 from Oliver Ormerod triggered a collapse in Alderley's order with the last 7 wickets falling for 55 just runs. In reply a quickfire hundred from Christopher Dodd and 51 not out from Michael Kilbride took Georgians to their target in the 32nd over with Alderley's bowlers unable to land a blow.
On Sunday Alderley's Third XI fell to a 6-wicket defeat at the home of current Champions Didsbury after winning the toss and batting first at Wilmslow Road. Opener Alfie Usher's 32 and 27 from Stan Price in the middle order provided the backbone of Alderley's 132 all out as 5-15 from Owen Griffiths Junior helped Didsbury to bowl the visitors out in the 32nd over.
Max Clarke picked up 2-13 for Alderley in the second innings but 31 each for openers Ric Daniel and Adam Slater and 27 not out for Muhammad Sharjeel took the hosts to their target in the 19th over.
Match report by Andrew Windle.