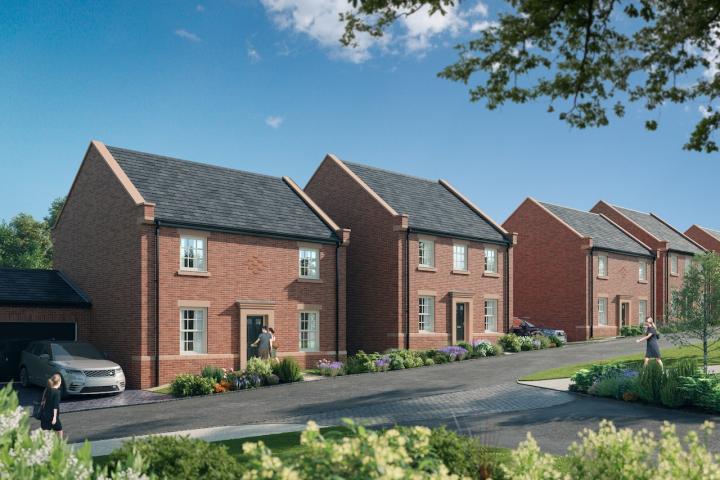 Promotional Feature
Construction is progressing well at a new homes development in Nether Alderley in Cheshire, where the first properties have been released for sale.
Alderley Gardens is a luxurious development located in the grounds of Alderley Park, where Jones Homes is building 50 three, four and five-bedroom detached houses and townhouses for private sale.
The Downton three-bedroom show home is currently nearing completion and will be opened to the public in February, allowing potential buyers to view this spacious property, which has been finished to the highest specification.
Simon Whalley, sales and marketing director at Jones Homes North West, said: "There's been strong interest growing in Alderley Gardens since we announced our plans for the site and we are therefore pleased to have reached the point where we can release the first properties for sale.
"The first homes are taking shape on this unique site, which occupies the former Walled Garden and Kitchen Garden in the grounds of Alderley Park – a site which was previously home to a grand country house and has a rich heritage dating back to the 1500s.
"We are looking forward to opening the show home which will help prospective purchasers visualise what life might be like in a luxurious Jones Homes property at Alderley Gardens."
Alderley Gardens forms part of Alderley Park, which offers 400 acres of stunning parkland on the doorstep as well as a host of other amenities.
Simon said: "You can access Alderley Park without leaving the site, which is great for dog walkers and those with young children. You will find an array of wildlife and natural beauty right on your doorstep, perfect for those wanting to settle down or downsize in a picturesque location.
"Alderley Park is home not only to acres of idyllic fields for winter strolls or summer runs but also to Everybody Gym, a state-of-the-art fitness complex, part of the wider offerings Alderley Park provides. The Churchill Tree pub and restaurant is also only a short stroll away."
The first homes released for sale at Alderley Gardens include a choice of The Winchester, The Beeston and The Hampton, with prices starting from £819,950.
To find out more about Alderley Gardens, visit jones-homes.co.uk.
Image: A computer-generated image of a street scene at Alderley Gardens, where Jones Homes is building three, four and five-bedroom homes.
Tags: