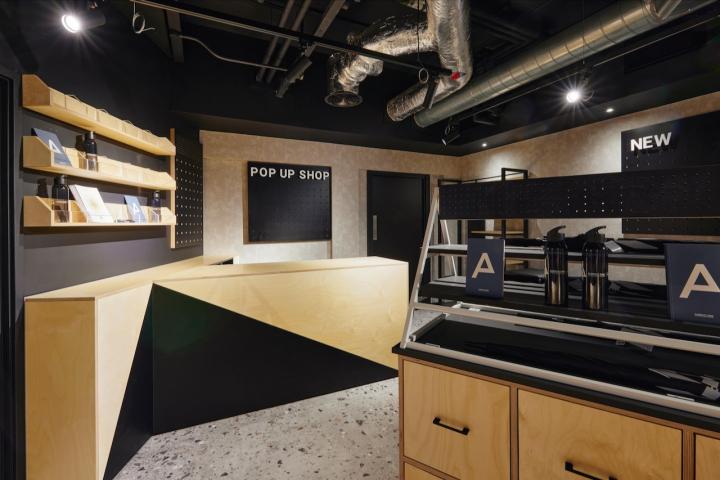 Promotional Feature
Bruntwood SciTech's Alderley Park, a world leading science and tech campus, will soon be home to an exciting new Pop Up Shop initiative for small businesses to rent.
Offering over 1m sq ft of office and lab space and home to over 250 companies employing around 2500 people, Alderley Park is a thriving community for forward-thinking businesses. The new pop-up shop, opening in September 2022, will exclusively serve the business community, providing an exciting new amenity for consumers working at Alderley Park's Mereside campus and in Glasshouse.
The initiative has been created to provide local and regional businesses with the perfect opportunity to showcase their diverse product range to employees working at Alderley Park. Following a £60k capital investment by Bruntwood SciTech, the newly refurbished space offers a contemporary, inspirational and flexible setting, including LED lighting. Pop Up shop occupiers will complement Alderley Park's values and retailers offering creative, innovative, sustainable, and local products or services are particularly encouraged to apply for space.
The Pop Up space is located adjacent to the central atrium in Mereside, next to the main reception, to enable maximum customer footfall. The space can be rented for a minimum of three days at a time and the price includes all rent, service charge, business rates, WIFI and shop furniture. This offering is designed to cover everything a small business would need to consider before opening the doors to their store.
By offering short term rentals, the selection will rotate frequently to provide a unique shopping experience for consumers. Ahead of the launch, Alderley Park is hosting an Instagram competition for local small businesses to win a free week in the space.
Daniel Bourne, Head of Asset Management at Bruntwood SciTech said: "We're really excited to launch our Pop Up space to our science and tech community at the Park - the concept is something that we've long been keen to offer, and it's great to be able to support local small businesses, all whilst providing our customers with a vibrant and exciting amenity that will brighten up their day - and make shopping easier."
Jessica Swain, Retail and Leisure Surveyor at Barker Proudlove, who are collaborating with Bruntwood SciTech on the scheme, said: "Pop up shops are a fantastic opportunity for small businesses to meet their customers in real life. The Alderley Park space offers businesses the unique chance to meet new customers in a less competitive environment as the pop up shop will be the only retail onsite."
"The pop up shop is a beautiful space and offers everything a business would need. We hope to welcome all kinds of businesses from the local area as there is clear demand from the customers on site for everything from gifts and art to workshops and beauty services. The potential is truly endless."
To enter the competition for the pop up shop, small businesses will need to visit the Alderley Park @AlderleyPark instagram and follow the instructions on the post in order to be in with the chance to win. Businesses must be available to take on the shop w/c 5th of September. Additional terms can be found on this post.
For more information or if you are interested in taking space, please contact [email protected] or [email protected].
Tags: