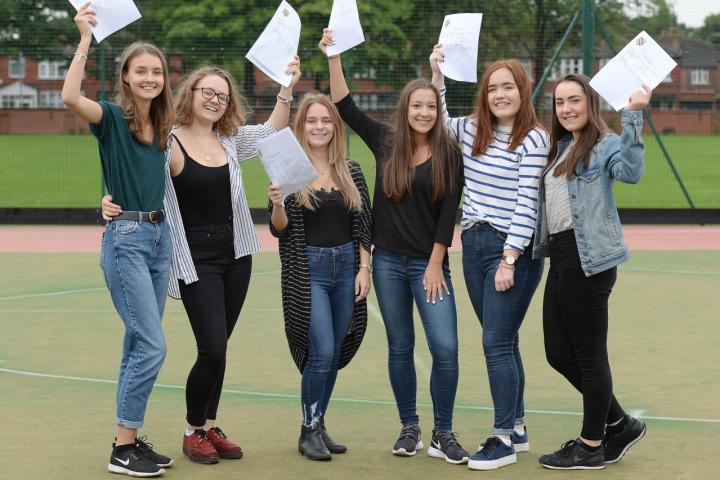 Promotional Feature
Students from Wilmslow and Alderley Edge are amongst Withington Girls' School's star performers in this year's A-Level examinations and are now looking forward to taking up their places at some of the country's leading universities.
The girls' impressive raft of top grades have contributed to Withington's outstanding results which have this year seen almost three quarters of subjects passed at A* and A against the national average of 26.3%, with 29% of these being A*s.
Withington Head Girl Emily Herbert, from Styal, is heading to Lady Margaret's Hall, Oxford, to read Philosophy, Politics and Economics (PPE) after achieving 2 A* and 2As, and Charlotte Bream, from Wilmslow, is also going to study PPE at Oxford, with a place secured at New College.
Scarlett McKendrick, from Alderley Edge, is taking up her place at the London School of Economics to study Accounting and Finance after attaining 3 A grades, whilst Lucy Owen, from Wilmslow, is to study Medicine at Newcastle after she achieved an A* and 2As.
Bristol-bound are Amber Murray and Sophie Bolam, both from Wilmslow, with Amber studying Economics and Politics after notching up a clean sweep of A*s in 4 subjects including an EPQ (Extended Project Qualification) - and Sophie's 1A* and 2 A grades have secured her place to read Geography. Holly Henry, who is also from Wilmslow, achieved 3 A-Levels with 2 at grade A and is hoping to study Drama.
Withington is proud of its girls' consistently high levels of achievement across a wide range of subjects, with 91% of all subjects passed at grades A*, A or B - and out of this year's A-Level group of 69 girls, eight students achieved a clean sweep of A*s in all subjects taken and more than half of students achieved at least 3 A*- A grades. The School's impressive results, once again, has enabled the vast majority of students to gain admission to their first choice university and degree course - and this year, nine girls, which represents 13% of the cohort, will take up their places at Oxford or Cambridge to read for degrees in a variety of subjects.
Withington's Headmistress, Mrs Sarah Haslam, said of the A-Level results: "It has been an absolute pleasure to work with this year group who have made such a fantastic contribution to the life of the school. They fully deserve these wonderful results which not only reflect their high academic ability, but also their commitment and their passion for learning. In this year's context of A Level reform in particular, it is satisfying to see the girls' and their teachers' outstanding dedication rewarded in results that enable our girls to move on to the university courses of their choice, many the most competitive in the land, and to see them leave with the skills, values, personal and social qualities needed to embrace the opportunities and challenges ahead and to go where their ambitions and dreams take them."
Each year, Withington welcomes new girls into Sixth Form for a range of A-Level courses (subject to meeting entry requirements) and interested parties are advised to call the School Registrar for more information on 0161 224 1077.
Tags: