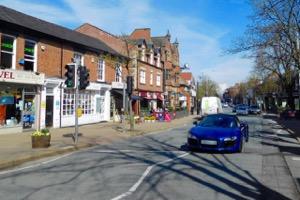 As the weather gets better we now have 15 plus supercar spotters in the village. Whilst this is great that the kids have a hobby the village has now become a mecca for high speed show offs, encouraged by the spotters.
It is only a matter of time before someone is seriously injured or killed.
Why are the police doing nothing about this ??
I am not a killjoy and have been fortunate enough to own Porsche's / sports cars for 25 years but there is a time and a place.
Today (Sunday, 2nd April) as well as the huge amount of cars speeding (and I mean 60mph plus and certainly up to 100mph going up Congleton Road), a high performance car lost control whilst pulling out of Macclesfield Road, narrowly missing our parked car and more worryingly careering into the decking full of diners at the Bar and Grill. (Editor's note - to clarify the car did not crash into the Bar & Grill or into anything else.)
It is not only innocent pedestrians that are at risk but these spotters themselves are standing in the middle of the road jostling for position as these cars roar past.
Tags: